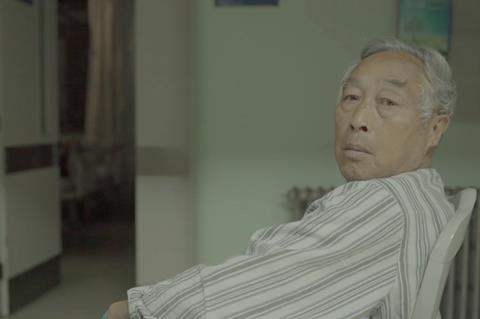 The world premiere of Chinese-born director Louis Hothothot's Four Journeys will open the International Documentary Film Festival Amsterdam (IDFA) as part of the new experimentally-focused Envision Competition on November 17.
Four Journeys is described as an intensively personal film by Hothothot who was born Louis Yi Liu in China. He now lives in Amsterdam. The film focuses on the destructive influence on a Chinese family of the one-child policy, which was introduced in 1979. Hothothot himself was born in China in 1986, as an "illegal" second child.
The International Competition line-up includes the world premiere of Giovanni Buccomino's After A Revolution, a Libyan-Italian co-production about two siblings supporting opposing sides in the 2011 Libyan revolution.
Scroll down for the full line-up
For the 34th edition that runs from November 17-28, IDFA has undergone a major overhaul of its competition sections, launching two new main competitions, both with juries and cash prizes. The International Competition presents 14 world, international, or European premieres of films of over 60 minutes in length. There will be prizes for best film, best director, best editing and best cinematography.
The Envision Competition allows for more experimental features, with 15 world, international, or European premieres of films that are over 40 minutes in length. A separate jury will choose the winner of the Envision Award and present prizes to best director and for outstanding artistic contribution.
Additionally, IDFA has introduced cross-sectional prizes to films screening in these two competitions as well as the Luminous and Frontlight sections. These will be for best first feature, best Dutch film and the Fipresci award. There will also be a prize for the best creative use of archive from across the entire programme.
"The documentary field is being confirmed as a future-proof art form that is unapologetically open, diverse, and continuously developing," said artistic director Orwa Nyabia at today's (November 1) press conference. "IDFA's new programme structure, as much as IDFA's filmmaker support and industry activities, is changing to reflect this. Today, we present a programme that is worthy of our return to cinemas."
IDFA is taking place as a physical event in the Netherlands from November 17-28, with strands showcasing immersive and interactive artworks as part of the IDFA DocLab competition for immersive non-fiction and the IDFA DocLab competition for digital storytelling.
In additon to the Luminous and Frontlight selections, the festival has already revealed details of the IDFA Forum, and the films to be screened as part of the 'Top 10', chosen by the festival guest of honour, the German writer and multi-disciplinary artist, Hito Steyerl,
IDFA International Competition
All world premieres unless stated.
After A Revolution (Libya-It)
Dir. Giovanni Buccomino
The Beach of Enchaquirados (Ecuador)
Dir. Ivan Mora Manzano
Children Of The Mist (Viet)
Dir. Diem Ha Le
Day After… (Ban-Fr-Nor)
Dir. Kamar Ahmad Simon
The Delights (Arg)
Dir. Eduardo Crespo
How The Room Felt (Georgia)
Dir. Ketevan Kapanadze
Journey To The Sun (Port)
Dirs. Susana de Sousa Dias, Ansgar Schaefer
Mr. Landsbergis (Lithuania)
Dir. Sergei Loznitsa
The One Who Runs Away Is the Ghost (Ger-China)
Dir. Qinyuan Le
Taamaden (Mali-Came-S Afr)
Dir. Seydou Cissé
A Thousand Fires (Fr-Switz-Neth-Palestine) International premiere
Dir. Saeed Taji Farouky
Turn Your Body To The Sun (Neth)
Dir. Aliona van der Horst
Vedette (Fr) European premiere
Dirs. Claudine Bories, Patrice Chagnard
Where Are We Headed (Bel-Rus)
Dir. Ruslan Fedotow
IDFA Envision Competition
All world premieres unless stated.
The Burrows (China) (101 mins)
Dir. Sanshou Hu
Darkness There And Nothing More (Neth-Cro) (88 mins)
Dir. Tea Tupajic
Eat Your Catfish (US-Sp-Turkey) (74 mins)
Dirs. Noah Arjomand, Adam Isenberg, Senem Tüzen
Eskape (Fr) (70 mins)
Dir. Neary Adeline Hay
For Your Peace of Mind, Make Your Own Museum (Panama) (71 mins)
Dirs. Pilar Moreno, Ana Endara Mislov
Four Journeys (Neth) (112 mins)
Dir. Louis Hothothot
Homemade Stories (Syria-Egy) (69 mins)
Dir. Nidal Al Dibs
Housewitz (Neth) (71 mins)
Dir. Oeke Hoogendijk
locks & keys, water, trees (UK) (99 mins)
Dir. Penny Andrea
The Mirror And The Window (Neth) (93 mins)
Dir. Diego Gutiérrez
O, Collecting Eggs Despite The Times (Neth) (64 mins)
Dir. Pim Zwier
Octopus (Leb-Qat-US) (64 mins)
Dir. Karim Kassem
One Take Grace (S Afr) (90 mins) International premiere
Dir. Lindiwe Matshikiza
Portraits Of The Future (Arg) (88 mins)
Dir. Virna Molina
Skin (Bra) (75 mins)
Dir. Marcos Pimente