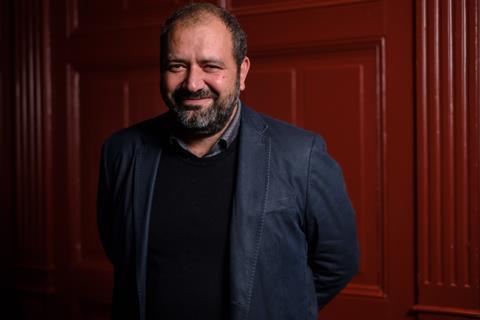 International Documentary Festival Amsterdam (IDFA) has announced a major overhaul of its programme for its 2021 edition which will take place from November 17 to 28.
The Dutch festival, one of the most important events in the calendar for European and global documentary makers, is to launch two new main competitions, both with juries.
The International Competition will present around 15 world, international, or European premieres of films of over 60 minutes in length, while the more experimental Envision Competition will feature around 15 world, international, or European premieres of films that are over 40 minutes in length.
Festival director Orwa Nyrabia explained the aim was to give added weight to documentaries not of feature length.
"My view of what is happening today in the documentary world is that there is a very special moment, a moment of transformation," Nyrabia told Screen. "With more interest in film going theatrical, online, being streamed and also on television, there is a diversity of slots and durations…that is very different to the world before."
The IDFA director acknowledged "classical" feature documentaries are still the films "making the headlines" and being acquired by big US distributors. "But it seems there is also a movement of filmmakers from around the world, and even more from the global south, who don't have access to this market and are going in a much more experimental direction. We can clearly see a place being made available for these [filmmakers]."
Nyrabia expects the "market hits" be found in the International Competition but anticipates the more "artistically courageous, pushing the limits films" will be found in the new Envision Competition.
"This is about being flexible. We don't know what the future will be like, especially after Covid-19. We are adopting an open form. We welcome these two different categories of documentary film."
New selection strategy
The way the festival finds the films is also changing. "We are revamping the entire mechanics of how we select films," Nyrabia said. "Every film submitted to IDFA will be seen by one of the team members. Every programmer at IDFA will have their own team of inclusive, international selectors and all the films will be split among these different teams, reaching a moment at the end where everybody will be in a series of meetings about the right selection and the placement of each film in which section of the festival. This means the process will be even more transparent and democratic.
"It used to be that everybody at IDFA knew who would be the programmer of this or that section. This will not be the case any more. The programme team will be programming all sections together."
Nyrabia, a producer as well as a festival director, is promising an IDFA in which filmmakers will be acknowledged as artists and their films will not be divided on the basis of their subject matter or running time, or "ghettoised" because of their country of origin.
The festival director suggested IDFA audiences "do not really care so much whether a film is mid-length or feature length."
IDFA will also now introduce cross-section awards for best Dutch film and best first feature, with films in the two main competitions, Luminous, and Frontlight all eligible for these awards.
"It's a good action against ghetto-isation," Nyrabia said of the decision not to programme films together "in a separate box" simply because they're Dutch or are feature debuts. "We have heard and discussed this with many filmmakers over the past couple of years. For example, when we say 'first feature,' we know that in western Europe, a first film is probably coming from a young filmmaker but in eastern Europe or the south or various parts of the world, it [a first film] could very much be [made] by an experienced filmmaker who has made multiple shorts and mid-lengths films but then this is the first time they make a feature film," Nyrabia said.
IDFA's competitions for shorts and youth films (previously known as Kids & Docs) are to stay unchanged as is the festival's competition for Creative Use of Archive. The "kids" label has been removed as IDFA works with older Dutch school pupils as well as children.
Nyrabia is also promising a shake-up of Doc Lab, the festival's new media section, now in its 15th year. "We would like Doc Lab to adapt and showcase these projects in a way that is more organic to the sector's development…New media today is quite different from new media five years ago or 15 years ago."
From today, filmmakers and new media artists will be able to submit their work for the 34th edition of IDFA.