The teams behind A Woman, A Part and La Ultima Tierra discussed the pros and cons of the director-producer relationship in Rotterdam.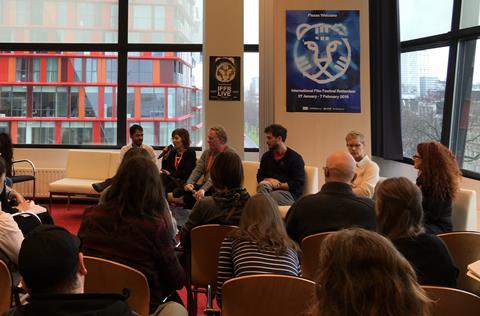 Led by Picture Palace Pictures' creative producer Madeleine Molyneux, and featuring the creative teams behind two of the eight Hivos Tiger Award Competition contenders at International Film Festival Rotterdam (IFFR), the panel put the spotlight on what is needed for a strong director and producer team.
Advantages - La Ultima Tierra
La Ultima Tierra producer Ilse Hughan started by explaining the origins of her relationship with director Pablo Lamar, whom she met in Argentina in 2009.
"I'm from the Netherlands but I have been based in Argentina since 2000. When I met Pablo, we got along really well, and then 'got married' in 2010."
The producer compares her working relationship with Lamar to that moment when your phone rings and you look to see who it is: "It's that feeling when you're excited to pick up the phone, not that dread when it's someone calling that you don't want to speak to."
The Paraguayan director also added that a trend in Latin America is for directors to also be their own producers, something he has done himself.
"It's a big role - you go to co-production markets and you talk and talk and talk. After six years, this helped me to protect the project," he said of his feature debut set in the hills of Paraguay using only natural sounds to tell the story of a man and his dying wife.
"I think it is very good to a certain limit," added Hughan who said she believes in giving directors creative space. "But in the months leading up to the shoot, directors should only be focused on the script and the actors and leave the production issues to producers."
Advantages - A Woman, A Part
Elisabeth Subrin - whose first narrative feature A Woman, A Part is about a forty-something actress on the verge of a breakdown - agreed.
"As a visual artist, I am used to working on my own. While on set, I go to the bathroom and worry if there is enough toilet paper, or why the craft services is a mess. But after a certain point, you have to tell yourself to stop, and focus on the bigger issues at hand."
She credits her two "laid back" producers Shrihari Sath (It Felt Like Love) and Scott Macaulay (Gummo, War Story), whom she first met in Rotterdam in 1998, for helping her with the stress of day-to-day decisions.
"I couldn't have made this film without either of these producers," said Subrin.
"You have to work with a team that you trust. Making a film is very challenging, especially with a film like this, where we suddenly found out our lead (Mad Men's Maggie Siff) had to start shooting a television series at the same time we were supposed to go into production."
Macaulay, who is also the editor of Filmmaker Magazine, added, "You want to be in a relationship where both parties are involved."
He cited other independent directors who treated him as an accountant, asking him to call when the money came through.
"I am a better producer when the director has spark and drive. It's a two-way relationship."
Sath also referenced the fundamental aspects of being an independent producer: "You jump in and do what you have to do. With Elisabeth, I worked half the time on set, and the other half as an assistant editor since we couldn't afford one."
Challenges - La Ultima Tierra
Both Hughan and Lamar lamented on the point in which they "married and then divorced an unhealthy co-producer."
"That was painful, especially for Pablo. He had the film almost set up in Paraguay. And that is not easy as an average of three films are made a year [in Paraguay].
"It's complicated to set up production, and then call it off. There was money involved … It was very hard to start all over again, but Pablo was very strong. You get to know your partner very quick."
Challenges - A Woman, A Part
Subrin cited a similar example with her initial project Up that she and Macaulay had set up after her stint at the Sundance Institute Lab in 2003.
"For various reasons, it fell apart. I was devastated. But Scott was very patient, and suggested I work on a script with a lower budget. If that project wouldn't have fallen apart, I wouldn't be here today with this film."
She also noted the hardships in fast-tracking production - where casting and financing were suddenly taking place at the same time as production.
"I am a director, I know I can be difficult. So when you are thrown into stressful situations, you really want calming but strong producers who can help you make clear decisions."
Macaulay added, "You can't get around the fact that you need time and money to make a movie. Decisions have to be made quick - whether it's about a shooting location or casting, which in our case, was still being done several days before we wrapped."
Subrin chimed in on her and Macaulay's decision to part-fund with kickstarter, "Don't do it. It's incredibly stressful and time consuming. You'll just end up emailing all your friends anyway."