Panelists including Tribeca's Frederic Boyer and Cercamon's Sebastien Chesneau weighed in at the Rotterdam event.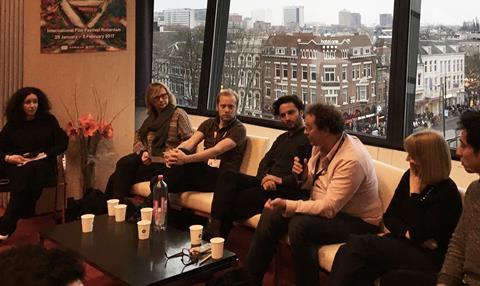 The requirement of a sales agent was hotly debated at International Film Festival Rotterdam today (Jan 29) during a panel about how filmmakers can make the most of film festivals.
Speakers included industry veterans Frederic Boyer (artistic director, Tribeca Film Festival); Sebastien Chesneau (partner, Cercamon Sales Agency) and Katharina Suckale (producer, Bombay Berlin Film Production).
Film-maker Gastón Solnicki, whose second feature Kékszakállú is screening in IFFR's Bright Future section this year, kicked off the discussion stating that his preference is to work without a sales agent in order to be in full control of the process of taking his films to a festival.
"I would rather be the person in direct contact with distributors, making the marketing materials and putting the posters up. I know my film best, and I know I will work hard to secure sales," said Buenos Aires-based Solnicki, who also worked without a sales agent on his first feature Papirosen that screened in Locarno and IFFR in 2011 and 2012 respectively.
Chesneau was quick to question him, stating that a sales agent was necessary, particularly for first or second-time film-makers.
"Do you feel comfortable in negotiating your own deals? Do you have the required relationships necessary in securing distribution?" posed Chesneau, who has previously worked in sales at Celluloid Dreams and Rezo.
The France and Dubai-based sales agent also suggested that it is often advantageous for a second party to sell a film because they can be objective about it.
Boyer, who was previously artistic director at Les Arcs, responded by adding, "There is no recipe for a film's success, it is instinctive. The most important thing when selling a film is to be yourself."
Suckale added that there is "no one winning formula", but did highlight that a key consideration is knowing what festivals to pitch to, something not all filmmakers are aware of: "Every filmmaker wants their film to be in Cannes or Sundance, but they don't realise slightly smaller festivals such as Tallinn Black Nights or South by Southwest (SXSW) are often better, allowing for more visibility and attention."
She continued by adding that – sales agent or not – you have to fight for your movie: "Producers, filmmakers, festival programmers, sales agents – we all must work hard to make a film a success."
The panel was moderated by Hayet Benkara, manager of TIFF's year-round 'Studio' industry programme.