Image Nation Abu Dhabi is set for a high-profile 2018 with a trio of Arabic-language productions set for release, including local comedies Rashid & Rajab and Shabab Sheyab, and Saudi mermaid drama Scales.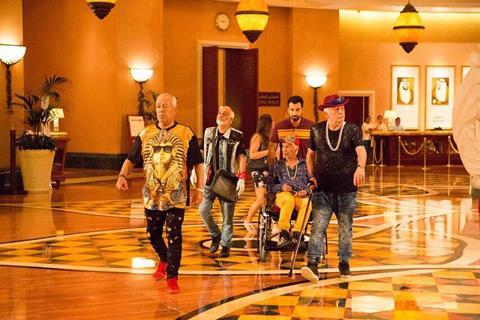 "This has been a very fertile time for us – the films are all in various stages of post-production," said Image Nation CEO Michael Garin. "We should be getting the director's cut for Scales next week, which is an exciting project from female Saudi director Shahad Ameen."
The tale of four elderly friends whose humdrum lives are transformed when one of them inherits a fortune, Shabab Sheyab is set for release early next year by pan-Arab production and distribution house Tanweer, which also co-produced the feature.
Garin also has high hopes for body swap comedy Rashid & Rajab, starring local actor and Screen Arab Star of Tomorrow 2017 Marwan Abdullah Saleh and Egyptian actor Shadi Alfons, the debut feature of Mohammed Saeed Harib, creator of the hit animated series Freej.
"I think that could be our most popular film because it has the broadest appeal, thanks to the subject matter, the casting and involvement of Mohammed," said Garin.
Image Nation, which is self-funding after an initial cash injection from the Abu Dhabi government, continues to invest in international productions to generate revenues for future regional productions. Upcoming international films that Image Nation has partnered on include Roman J. Israel, Esq, starring Denzel Washington, Brandon Camp's Benji and horror thriller Prey.
"We're still waiting but very hopeful for the green-light on Barbie," said Garin of the big live-action production, backed by Sony and involving Image Nation's associate producers Walter F. Parkes, Laurie MacDonald.
Garin also noted that some of the most significant developments for Image Nation have been on the television side, led by the success of its legal drama Justice, which premiered on pan-Arab network OSN this September, in a deal brokered by IM Global Television.
It is now pushing on with the development of a film and TV adaptation and spin-off of Saudi novelist Ibraheem Abaas's best-selling supernatural, djinn tale HWJN, which is now at the writing stage.
Meanwhile, Ali F. Mostafa's dystopian drama The Worthy, which was produced by Image Nation and screened at last year's DIFF, was acquired by Netflix on the eve of this year's festival.
"The most important thing I can say about Image Nation is that it has demonstrated to the world that this region is capable of producing content to international standards," said Garin