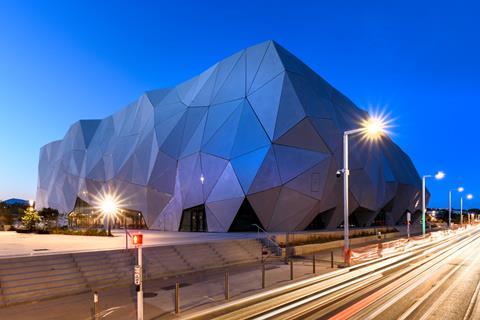 Cannes is getting its first Imax theatre as part of the city's new Cineum Cannes multiplex due to open to the public later this summer.
The giant-screen theatre was showcased today (July 8) during a Cannes Film Festival screening event at the Cineum.
Opening through a partnership between US- and Canada-based Imax and Cineum operator Compagnie Cinématographique de Cannes (CCC), the 513-seat theatre will include a 22.45m screen and motorised seating and will employ cutting edge laser technology and a 4K system with a new optical engine, custom designed lenses and a suite of proprietary technology. It will have a 12-channel sound system exclusive to Imax theatres.
CCC plans to pursue official venue status for the theatre so it can be used for future editions of the Cannes Film Festival as well as Cannes Series, the MIP market and other events in the city. Imax plans to use the theatre for premieres and exclusive screenings.
With the addition of Cineum Cannes, Imax will have 17 theatres across France, where the company opened its first theatre in 2005.
Imax CEO Rich Gelfond said: "This is a milestone event for Imax, as we've long sought to expand the world's foremost theatrical experience to one of the most iconic cities in global cinema. We are thrilled to begin our partnership with Compagnie Cinématographique de Cannes at this truly special location, and bring The Imax Experience to the home of the storied Cannes Film Festival and some of the world's most passionate cinephiles."
CCC CEO Philippe Borys-Combret added : "The opening of the Imax at Cineum Cannes represents a celebration of filmmaking and groundbreaking entertainment experiences. With Imax, our audiences both local and those who flock to the region annually for the Cannes Film Festival, among others, will have the unique opportunity to immerse themselves in a state-of-the-art theatre designed to transport them into the world's biggest stories."