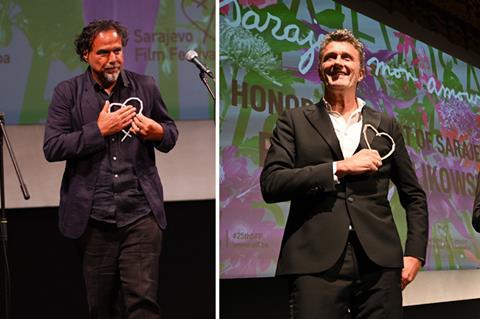 The 25th Sarajevo Film Festival (SFF) opened last night with a ceremony at the city's National Theatre, during which Alejandro González Iñárritu and Pawel Pawlikowski received honorary Heart of Sarajevo awards.
After a short video which counterpointed footage of the shelling of Sarajevo during the siege in 1995 (when the festival took place for the first time) with images of celebratory fireworks that traditionally take place at midnight of the opening night, young Bosnian actor Igor Skvarica took to the stage to host the ceremony.
Following his short introduction when he discussed how he grew up with and was strongly influenced by the festival, Skvarica highlighted that this year's SFF will screen 270 films from 56 countries across 18 sections, out of which 68 will enjoy their world premieres. Then he invited festival director and founder Miro Purivatrato the stage.
"Good evening and welcome to the Heart of Sarajevo tonight," said Purivatra. "Tonight we mark and celebrate a small but important anniversary, 25 years of the festival.
"The past war is, for many different reasons, still very present in the lives of our fellow citizens, so it wouldn't be wrong to say that we are celebrating 25 years of the end of the siege of Sarajevo and the war in our country. Launching the festival 25 years ago, we were very emotional, very enthusiastic, and we wanted to please and amuse this city, hoping to bring back the life as it was before the war. So we offered what we were good at: to make a film festival.
"Here we are, many years later. The festival has grown into something meaningful not only for our audiences but, I hope, for all film professionals in Southeast Europe. Before we proceed with the ceremony, I want to thank our guests from all over the globe who helped us cherish this fire that we lit up 25 years ago."
"We are so sincerely joyful to be able to celebrate something special tonight. We will award not one, but two Honorary Hearts of Sarajevo to two brilliant film authors. These are the authors who are fully committed to keeping the essence of cinema alive in all its honesty, beauty and magic. We are delighted and honoured to have them here with us in Sarajevo tonight," he added.
After being invited to the stage, Cold War director Pawlikowski said: "In 1981 I saw a film called Do You Remember Dolly Bell? and I totally fell in love with it. It was a wonderful story about love, but it was also a film that had so much love for Sarajevo, it was like a love letter to Sarajevo. And ever since, I wanted to make films - it's one of those films that make you want to make films. But it also made me want to visit Sarajevo which I then did and I've been revisiting it through the decades. I've seen it through different stages, before the war, during the war, after the war, but it always fills me with great emotion to be here.
"This is a city with not a simple heart, it's very complicated and full of paradoxes and contradictions, but a very strong heart, a heart that is stronger than ideologies, nationalism, vicissitudes of history. It's a very powerful heart and this festival is the epitome of that. And the man who founded the festival, Mr. Purivatra, has a huge heart himself.
"And vatra means fire, right? And does puri mean pure? I don't know but he is a man of pure fire," said Pawlikowski, to laughter and applause in the audience.
"So I will cherish this moment and I won't take the heart away from Sarajevo, but I will take this little token and I wish you a long, long life in this festival and may the city go back to its beautiful, lively thing that it has been for centuries."
Following Pawlikowski receiving his award was The Revanant director Iñárritu.
"Thank you very very much, I am very honoured and I feel very humbled to be here, receiving this amazing recognition," Iñárritu said. "I am very thankful to Miro who has been inviting me a couple of times, but unfortunately because of my professional and personal obligations I couldn't come. And it has been my dream to come to Sarajevo. I'm living that dream now, being here with my wife, my daughter and friends, and sharing this honour with my dear friend Pawel Pawlikowski, and Danis Tanović there in the audience, we started our careers together.
"I think when you get old, you start to worry about your heart's function, so to receive a heart that is, as Pawel said, strong and resilient and brave and full of purpose and reconciliation and love and fire, I appreciate especially as yesterday I turned 56 years old, so this is the best gift. It's a new heart!
"And finally, as Miro and everybody was saying, we feel that the world is repeating its mistakes. We are in a moment when it seems that anything can happen. I have been in this city for three hours only, but I saw on the windows and balconies of Sarajevo streets that real people from the city really participate in the festival. At the festivals where I have been, there is always a distance and the fact that this is happening in the heart of the city is making it very special.
"What I love about film festivals is that they are acts of resilience, acts of love and of resistance to dictatorship and fascism. In a way, this is a space where diversity can be exposed and people can understand each other, which doesn't mean that we have to agree. In the world that we are living in, I think film festivals are bubbles of reality that we would all like to live, to show things from everybody and everybody can celebrate even if we disagree."