Carne y Arena was the highlight of this year's VR crop at the festival.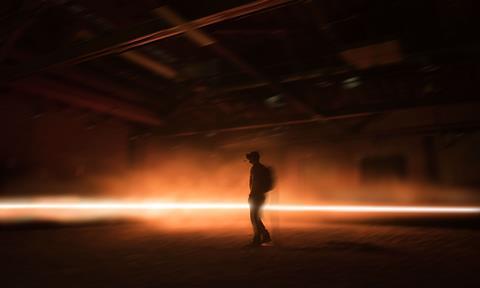 Alejandro González Iñárritu's lauded Carne y Arena was the star of Cannes' VR offering this year but the Marche's innovation hub NEXT also offered up plenty of debate and experiences.
Among companies to showcase VR compilation experiences were Arte, Telefilm Canada, CNC and China's Polyhedron VR Studio.
San Francisco-based operation Penrose Studios screened the first episode of Arden's Wake, an immersive 15-minute experience, which tells the story of a young girl living with her father in a lighthouse.
The experience was created with Penrose's software Maestro, which allows their development team to fully collaborate in a virtual space.
Meanwhile, Zach Richter of Within screened an immersive 360 rendition of Leonard Cohen's Hallelujah, using Lytro's Immerge camera.
In the booked-out interactive effort Ximoan, part of the Swiss Digital Showcase, one player lies down wearing an Oculus Rift headset, while another player stands at the head of the bed and plays a musical instrument, determining what the prostrate player views.
Wide Management showed off a selection of VR projects from their growing programming slate, including Tribeca favourite Sergeant James.
"We don't have a financial model yet – our initial goal is to place these VR projects at festivals or location-based VR cinemas," admitted Wide Management's Paul Bouchard.
"This is new for us, but we are excited to support new types of content."
The expansion into VR from the French movie outfit follows a similar move by distributor-exhibitor mk2.
For more experienced VR players, monetisation strategies are evolving.
Shannon Norrell from Hewlett Packard said episodic content and subscription models were key factors in driving the medium forward, with Taiwanese tech company HTC currently experimenting with a subscription fee for its app service Viveport.
The Marche's head of industry programmes Julie Bergeron admitted that staging such an extensive VR focus was a "challenge", especially given the "Wild West" nature of the emerging VR market, but that it had been well-received: "We feel we accomplished our goal of bringing together some of the best players in the field. The VR theatres were consistently full."