The importance of the independent film industry harnessing data was in the spotlight during day two of International Film Festival Rotterdam's distribution conference Reality Check.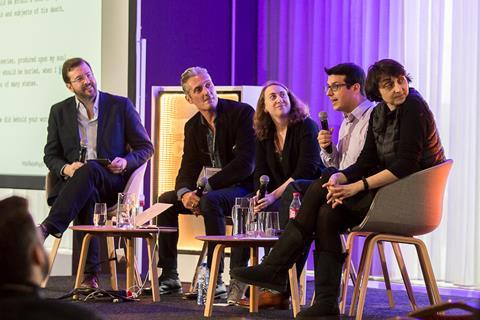 The subject of data had been regularly alluded to during day one – with panellists often at loggerheads about the influence of an algorithmic approach to filmmaking – and yesterday (Jan 29) the topic was addressed head-on during a panel that explored the future of data in the film business.
Screen's editor Matt Mueller, hosting the discussion, pointed out that data has typically "been the preserve of the studios and online players" to-date, asking his panellists to highlight ways in which the indie industry could harness it.
Rene Bastian from data company Cinelytic – which launched in Cannes last year – claimed that "every industry on earth has been transformed by analytics" and that the independent industry was "fooling itself if [it] didn't think that's going to happen to the entertainment space".
He warned that technology giants entering the business, such as Apple and Facebook, adding to the significant presence of Netflix and Amazon (both of which put an impetus on data), indicated that the indie space needed to catch up as soon as possible. "We need to speak their language or we're dead," he claimed.
Liz Manashil, manager of the Creative Distribution Initiative at the Sundance Institute, agreed that there is a need for much more data gathering. She highlighted that distribution deals typically have restrictive terms when it came to data, "When you sign a distribution contract, you sign a non-disclosure agreement so you can't talk about all the details that could benefit your community of filmmakers."
Manashil believes that self-distributing can be one way around the problem. The Sundance Institute's Creative Distribution programme is helping filmmakers to self-distribute their titles so that they can collect their own data on the film's release. "We're encouraging filmmakers to self-distribute in the US. If they do that they can openly speak about building their audience."
The initiative has backed four titles to date – including Kogonada's Columbus, which grossed more than $1m in the US, and Jennifer Brea's documentary Unrest. The results from the data gathering will be published by the Sundance Institute online in March.
With Unrest, the filmmakers already had a streaming deal with Netflix in place before approaching the Institute. The SVoD company won't provide any data on the release, meaning that won't factor into the published results. "The key players [such as Netflix] who are offering substantial revenues [to filmmakers] are also not sharing info - it's backing people into a corner, the lack of data doesn't help them grow as artists," Manashil said.
Data isn't just for big companies, she also stressed, noting that even micro-budget filmmakers can make efforts to collect information about their audiences. "Collect email addresses, build your audiences so that it's your audience and you can bring them from project to project. Use them as a focus group for your work. That way you won't rely on outside sources that are expensive," she suggested.
Concerns
The regular counter argument to implementing wide usage of data is the fear that an algorithmic approach to filmmaking will remove creativity.
Greg Detre, chief data scientist at UK broadcaster Channel 4, said that filmmakers should see data as a way to support creative efforts, rather than replace them. "We make decisions supported and informed by data, we're not devolving decision-making to an algorithm," he said. "What does it look like for creative and algorithmic strands to come together? There's a sense it could be more than the sum of their parts."
Channel 4 has been collecting online audience data since launching its VoD platform in 2006, and its consumer insights team is attempting to utilise that information to influence its content strategy. "We've been collecting data from our millions of viewers all of that time, it provides a rich source for us to mine," said Detre. "We look for patterns, there's an art as well as a science to it." Despite declining to divulge much specific info about what kinds of datasets Channel 4 is collecting, Detre did reveal that two of his favourite categories of viewer were classified as Culture Club (viewers who enjoy interesting dramas) and Love Makers (viewers who watch romance and dating, but according to the data also enjoy DIY programming).
Responding to Detre, Bastian was quick to assuage fears that data would impact creativity in a negative way. "Nobody is suggesting that a robot should make movies, or that a formula or algorithm can tell you how do it," he commented. "You can make better decisions based on better information about your market and your audience. Knowledge is power and data is knowledge. It's not going to take away the magic of cinema. Data is going to make us stronger, smarter and better at our jobs."
Mueller quizzed his panellists whether different strands of the film industry, such as production, sales, distribution, and exhibition "could share more data for the common benefit." Bastian responded that he was "convinced that if they collaborated more the industry as a space would do better", adding that eventually there will be "a tipping point where that will happen".
The view from China
Isabelle Glachant, founder and CEO at Hong Kong based production and sales company Chinese Shadows, used the panel to highlight the usage of cinema data in China. While China is typically seen as a closed shop in terms of transparency, she noted that a wealth of data on moviegoers was gathered through the major ticket booking apps WePiao, Taopiaopiao and Maoyan (which she said account for 80% of ticket sales) and is accessible.
Glachant explained that Chinese media and commerce giants such Alibaba, which owns ticketing service Taopiaopiao, and Wanda, which part-owns WePiao, were constantly mining data from its customers through a variety of different avenues, and then analysing that to determine taste. "Alibaba know who is buying their tickets," she commented, adding that the company tracks user data in real time and even implements a strategy that lets data influence ticket prices.
However, China is experiencing a similar data domination from the major, deep-pocketed companies. "It's a nightmare to distribute small films in china. For a smaller film, using data should be useful, but I'm not sure they're using it yet," she added.