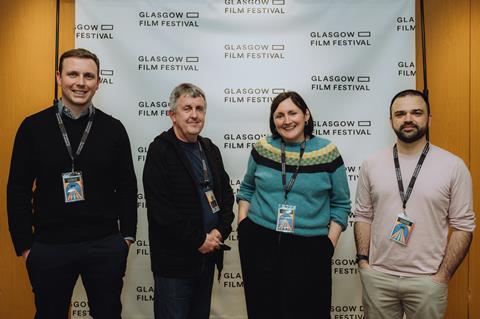 "We need to make space for independent films, so we're not eating our young," said Steven Little, head of production at Screen Scotland, during an event at the Glasgow Film Festival this week.
"Maybe there's a model around de-risking financing. Not just investing in a project, [but] investing among multiple projects, so you only have to have one success to mitigate loss."
In 2021, in Glasgow alone, a record £42.4m was generated for the local economy off the back of film and TV productions shooting across the city. Productions to have filmed recently in Scotland include Batgirl, The Batman, Tetris and the fifth Indiana Jones, plus Amazon's Prime Video series The Rig, Anansi Boys and the second season of Good Omens.
Little was joined by director Douglas Mackinnon and producer Ciara Barry on a panel to discuss the impact of the surge in film and high-end TV production on Scotland's independent filmmakers and producers. Mackinnon is co-showrunner across two Neil Gaiman-created and written Amazon Prime series that have shot in Scotland – Good Omens series two and Anansi Boys, and Barry, of Glasgow based production company Barry Crerar, whose co-production Nobody Has To Know had its UK premiere at GFF.
"We made our mistakes [in independent film] and we were forgiven for them there, and moved on," said Little. "It's critically important. But indie film has a global problem. The European way [to solve] is lots of soft money, the US way is very commercial, and in the UK and Scotland we're somewhere in the middle."
The increasing demands on crew and facilities, coupled with the loss of additional funding post-Brexit, is "not sustainable," said Little. "We need to try to readdress that balance.
"Independent producers have always been a creative bunch, we will find a way to ride this wave and survive."
"People not projects"
Mackinnon said he saw the US streamers as no threat to independent filmmaking. "One of the things the streamers get right is that, generally speaking, they invest in people not projects. I wish the BBC [invested in people] a bit more, and not just said, 'We need another cop show.'
"I think Good Omens is an independent film," he continued. "If independent filmmaking means freedom of expression, if independent filmmaking means Neil can write the way he wants and I can direct the way I want to without interference at all, that's what we've just done. I'm not saying everyone can do it – the words 'Neil' and 'Gaiman' are a very big factor in that."
Mackinnon revealed he and Gaiman were now talking to Amazon about backing two "very small" films set in Scotland."We're twisting their arm," he said. "We said, 'If you want more Good Omens, you have to make these films'. Neil and I have now got a bit of power, we're trying to use it responsibly and make the boom not a boom and feed it back into other projects."
Training ground
Mackinnon highlighted the training opportunities that the filming of Good Omens has brought into Scotland, based on a model created by Starz series Outlander, which has filmed in Scotland since 2013.
"We had 20 trainees across all departments," he said. "I was absolutely determined that everyone who applied had an equal opportunity, no favours were done at all to anybody. We had people coming in from the Highlands who we paid for accommodation and their travel to give them a level playing field."
Screen Scotland is aiming to launch three Good Omens-based training programmes, added Little.
"But the answer is apprenticeships in the film and TV sector," he explained. "We're trying to do that, so combining training with learning, and a longer- term contract. Apprenticeships are probably going to be minimum 12-month contract, so hopefully that will provide the job security the industry needs, and also diversity."
The Glasgow Film Festival closes on March 13 with a gala screening of Antoneta Alamat Kusijanović's Murina.