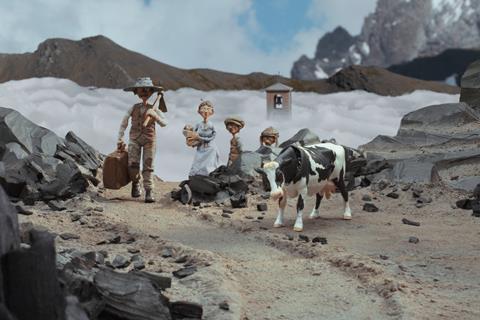 Paris-based company Indie Sales has signed world sales rights for French filmmaker Alain Ughetto's animated feature No Dogs Or Italians Allowed ahead of its world premiere in competition at the Annecy International Animation Film Festival (June 13-18).
The stop-motion animation explores the real-life story of Ughetto's grandparents who left their homeland in the Piedmont region of Italy to settle in France at the turn of 20th century, changing the destiny of his family forever.
French actress Ariane Ascaride lends her voice to one of the main characters, while Ughetto provides the voice-over.
"Alain's film is both an exploration and wonderful tribute to the resilience of his Italian immigrant family and thus all families who leave everything behind in hopes of a better life," said Eleanor Coleman, head of animation at Indie Sales.
It is Ughetto's second feature after Jasmine, inspired by his romantic encounter with a young Iranian student in the 1970s against the backdrop of her country's revolution. The work debuted in competition at Annecy in 2013.
Indie Sales has a strong track record in handling sales on animated features having previously sold the Oscar-nominated work My Life As A Courgette as well as titles such as Calamity and Another Day Of Life.
"Our previous experience in animated arthouse films illustrates the strong international potential when it comes to ambitious and creative projects such as No Dogs Or Italians Allowed," said Constance Poubelle, sales executive at Indie Sales.
The film is produced by Les Films du Tambour de Soie in France in coproduction with Vivement Lundi! (France), Foliascope (France), Graffiti Film (Italy), Lux Fugit Film (Belgium), Ocidental Filmes (Portugal) and Nadasdy Film (Switzerland). It will be released by Gebeka Films in France.