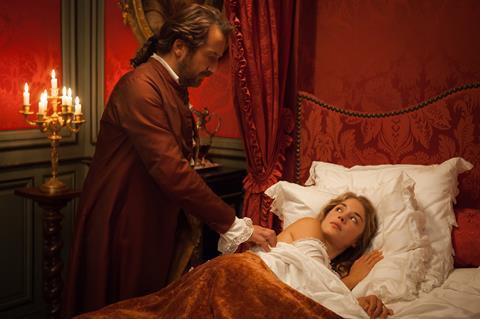 Paris-based Indie Sales has boarded French director Emmanuel Mouret's upcoming 18th century, love triangle costume drama Mademoiselle de Joncquières, starring Edouard Baer, Cécile de France and Alice Isaaz.
The sales company, which will kick-off sales on the film at Unifrance's Rendez-vous with French Cinema in Paris this week (Jan 18-22), has released an exclusive first image of Baer and Isaaz in the costume drama.
The film is inspired by a tale in French Enlightenment writer and philosopher Didier Diderot's classic picaresque work Jacques The Fatalist exploring ideas of fate and free will.
Baer plays the libertine figure of the Marquis des Arcis opposite de France in the role of Madame de la Pommeraye, an attractive, reclusive widow he seduces.
When their relationship comes to a messy end the spurned Madame de la Pommeraye devises an intricate revenge plot involving a young prostitute, going by the name of Mademoiselle de Jonquières, a young woman of rare beauty played by Isaaz.
It is the tenth feature directed by Mouret and marks something of a departure for the actor-director after a number of contemporary, feel-good romantic comedies such as Caprice, Shall We Kiss and The Art Of Love which he both directed and took the lead role.
Mouret's long-term collaborator Frédéric Niedermeyer is producing the film under his Moby Dick Films banner.
The film is currently in post-production. Pyramide Distribution is planning an autumn 2018 release in France after a festival premiere.
"I'm very happy to team up again with Emmanuel and Frédéric after a first experience with Shall We Kiss a few years ago," said Nicolas Eschbach, Indie Sales CEO & co-founder.
"The dialogues are subtle, capturing perfectly the contradictory human emotions at play in the tale, in the vein of Dangerous Liaisons."
César Award-winning costumer designer Pierre-Jean Larroque, whose recent credits include Marguerite, is also attached to the production.
Indie Sales will market premiere Julian Hallard's Let The Girls Play, inspired by the formation of France's first all-women soccer team in the 1960s, and Sophie Fillières's comedy When Margaux Meets Margaux, starring Sandrine Kiberlain as a woman in her mid-40s who meets her younger self.