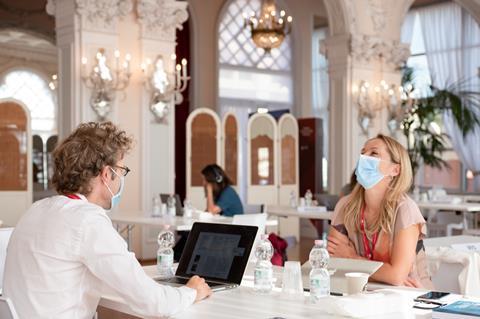 The Venice Production Bridge (VPB) kicks off today (September 2) with double the number of physical attendees than 2020 in a sign the industry is getting to grips with business travel amid the pandemic.
The Venice Film Festival's industry strand will welcome some 1,300 professionals, against 800 in 2020 and 2,700 in 2019, its last pre-pandemic edition.
"It's mainly Europeans - the US, Latin America and Asia remain largely absent," said Pascal Diotl who oversees the programme with Savina Neirotti.
With long-haul travel to Europe remaining complicated, the VPB is running as a hybrid physical and virtual event again this year with its pitching events and conference programme viewable on its VPB Live Channel.
"We were getting up to 300 to 400 people joining online last year for some of the sessions," said Diot.
The key draws are the Venice Gap-Financing Market (VGFM), running September 3-5, and Final Cut in Venice, unfolding September 5-7.
For its eighth edition, the VGFM is showcasing 57 projects, divided between 30 fiction and documentary feature projects, 13 VR immersive story projects and 14 works developed within the framework of the Biennale College Cinema.
Feature project highlights include Afghan filmmaker Sahra Mani's timely feature documentary Kabul Melody, about a group of young women who risk their lives to set up Afghanistan's first female orchestra; Carthage-set thriller Ashkal by Tunisian director Youssef Chebbi, and Holly, the fifth feature from Belgian director Fien Troch who won best director for Home in Venice's Horizons section in 2016.
Past VGFM feature participants debuting in Venice this year include Russian directors Natasha Merkulova and Aleksey Chupov's Captain Volkonogov Escaped in the main competition and Brazilian drama Private Desert, which plays in Giornate degli Autori.
Final Cut in Venice will show rough cuts or extracts for three upcoming fiction features and three documentary works from Africa and the Middle East.
They range from Tunisian director Erige Sehiri's drama Under The Fig Trees, about four teenagers who find ways to have fun while harvesting figs, to Iraqi drama Hanging Gardens, about a 12-year-old boy who adopts an American sex doll he finds in the dumps of Baghdad, and Central African Republic documentary We, Students! about two close friends on the cusp of taking important exams.
"The pandemic meant we received slightly fewer submissions this year but there were around 60 titles nonetheless," Diot explained.
These rough cuts will screen physically while all the market screenings will be online again due to the festival having taken most available screening venues due to the 50% capacity limit on audiences as part of Covid-19 health protocols.
Demand for events
Beyond the project development events, Diot and VPB team have pulled together a busy conference programme. "What's been remarkable is the demand to hold events," comments Diot. "We could have easily run a packed programme from 9 in the morning to 7 at night for the entire duration of the festival. The desire to attend physical events again is back again for those who are able to travel."
This programme kicks off on Friday (September 3) with panels on the implications of the European Union's new Digital Services Act and how it could help combat online piracy and the role innovation and diversity can play in the post-pandemic recovery of the arthouse exhibition sector. The route to recovery will also be at the heart of the traditional European Film Forum on September 5.
There is also a strong Middle East presence at Venice with Saudi Arabia's Red Sea International Film Festival hosting a lunch and the Arab Cinema Centre hosting a panel on new sources of film finance in the Arab world. Speakers for the latter will include Egyptian producer Mohamed Hefzy and Stephen Strachan, head of Saudi Arabia's new Alula Film Commission.
For the first time this year, the VPB has organised a country focus dedicated to the Netherlands as the inaugural territory. "The Netherlands works well because its industry is broad enough to participate in all our different strands," explained Diot.
Under the initiative, six Dutch majority and minority co-productions are participating in the Venice Gap-Financing Market, including majority production Helena Musken's drama Floating from Amsterdam-based Family Affair Films, and minority co-productions with Belgium, Troch's Holly and Caroline Strubbe's The Silent Treatment, involving Rotterdam-based Volya Films.
There will also be a presentation on the Netherlands's thriving immersive story-telling scene while Netherlands Film Fund CEO Bero Beyer is participating in a panel on the future of co-productions in a post-pandemic era organised by the Paris-based European Producers Club.
"There is some innovative stuff going on in this domain with the rise of virtual production. It promised to be an interesting discussion," said Diot.