Film-maker faces 223 lashes during his one-year jail sentence which has just begun.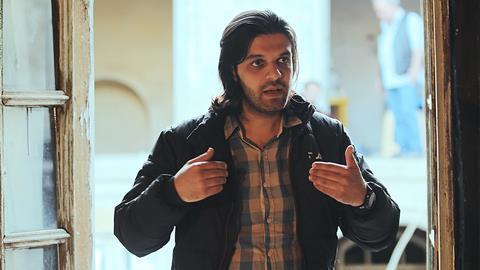 Cinema institutions and professionals across Europe have joined forces in a fresh campaign drive urging Iran to free film-maker Keywan Karimi.
The director has just begun a one-year prison sentence and is also set to receive 223 lashes after being convicted of disseminating anti-government propaganda linked to his documentary Writing On The Wall about political graffiti on the walls of Tehran.
According to French newspaper Le Monde, Karimi has been in and out of Iran's notorious Evin prison, sometimes being kept in solitary confinement, since late 2013 when he was arrested on charges of insulting the Iranian government with his work.
Some 30 cinema bodies from across Europe — including the Cannes Film Festival, French writers, producers and directors guild L'ARP, the Polish Film Academy and the Deutsche Filmakademie - issued a joint statement calling for Karimi's release.
"Keywan is 31 years old and has his whole life ahead of him. His vocation is cinema, and he has devoted his life to telling and sharing stories. He expresses his love for Iran through his films, which depict the reality of his country and his people, with genuine courage and lucidity," read the statement.
"Writing on the City, a documentary on graffiti and messages written on the walls of Tehran from the 1979 revolution to the movements of 2009, is the reason why he has just been condemned and the symbol of his courage."
The petitioning bodies said they feared for Karimi's life in the event that he is subjected to the sentence of 223 lashes.
"No one can resist 223 lashes, whether they are administered in one go, or over several sessions. The execution of such a barbarous act, and of Keywan's imprisonment, should show the world – from heads of state to simple citizens – that the values ​​of the Islamic Republic of Iran share nothing with those of a democracy.
The petition is part of an on-going campaign by the European film world for Karimi's release.
"During the 69th Cannes Film Festival, exactly seven months ago, we called for the pardon of Keywan Karimi. We now solemnly request his release from the Iranian President, Mr. Hassan Rohani," said the statement.
"In past decades, the Islamic Republic of Iran has signed treaties like the Universal Declaration of Human Rights and the UN Covenant on Civil and Political Rights of 1966. Why has Iran decided to turn its back on its own culture and history?"
The petitioners also called on France — where many of the bodies involved are based — and the European Union to intervene in favour of Keywan.