This year's Storytek content accelerator event held during the Tallinn Black Nights Films Festival saw an interactive audience streaming application called Clappy crowned by Creative Estonia as its best pitch.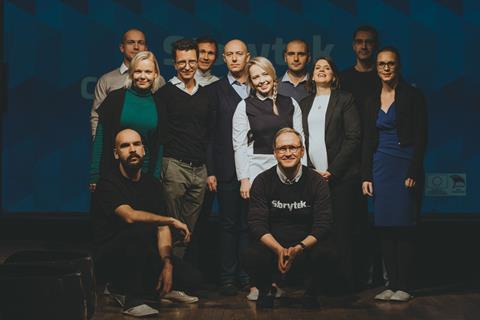 Launched in 2016 by Sten-Kristian Saluveer, the consultancy and accelerator programme is designed to enhance the international film industry through story­telling and technological innovation.
The event offers selected start-ups 10 weeks of mentoring within the Estonian country's capital and the opportunity to pitch to key technology companies. The start-up projects are then highlighted at several events across the year.
At this year's Storytek event at Black Nights, the final pitches included Clappy, an audience participation application for television and streaming formats. The web service offers showrunners the chance to use different interactive models to gauge audience reactions to content.
At the end of the evening, the Clappy team was awarded with a place in a natonal technology competition run by Creative Estonia. The winner of that event will be offered the opportunity to pitch at the annual Creative Business Cup Global Finals held in Copenhagen.
Further pitches included the film financing platform Kosma, which vows to rid the industry of Excel spreadsheets. Distinct from the existing Movie Magic budgeting software, it also provides assistance with cost control and cash flow. The company officially launches in January, and has existing clients in Switzerland and Germany with an aim to expand into Scandinavia.
Videolevels, a global events platform, was also pitched. It offers event producers the opportunity to set up livestreaming and VoD. A dashboard is then provided to clients, showing real-time intel on ticket sales.
Also on the list was Beholden, a service that can search for models worldwide via AI-based solutions. Already working with nine agencies, its aim is to help modelling companies reduce expensive scouting fees.
Interactive multi-platform series La Boheme, meanwhile, offers a unique reality format "that will take audiences behind the scenes into the characters' mythical lives".
The first series will comprise ten episodes of 20 minutes each, with revenue brought in from its IP that will include branding, advertising, sponsorship, merchandising and profit sharing on live events. The Canadian-based team of three women are aiming to raise €200,000 to produce, distribute and market season one.
Also presented was VR experience Code of Freedom, which lets users become video journalists who must make ethical decisions during a turbulent period of Lithuania's history. The interactive gamification has already been shown in Lithuania's Vilnius TV Tower with sold-out sessions.
Targeting museums first, revenue will come from ticket sales, followed by sales from online platform Steam, along with online ads from user-generated content. The group is looking for €300,000 to create an additional three episodes in Budapest, Prague and Kiev to complete its first series.
Finally, ticketing platform Fienta offers a more simplified version of Eventbrite that relies less on third party apps like Mailchimp. The technology team has thus far invested €300,000 of its own money and is seeking an additional €300,000 to develop further features.
Storytek's fourth edition starts March 2019 and will run several events throughout the year.
"Three years ago, Estonia had a lot of accelerator companies, but not one organisation that would support technology, finance and creative storytelling," refleted Saluveer on Storytek's work to ate. "Three years later, here we are, with three completed accelerators that have brought together companies from all over the world."
He added that since its inception, Storytek has seen immense growth in terms of its outreach, number of applications and the quality of projects and entrepreneurs joining the programme.