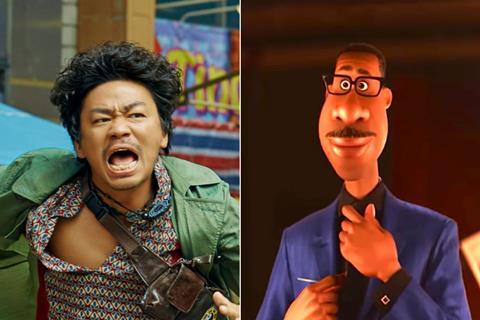 Detective Chinatown 3 stuns with $397m China debut
Wanda Pictures' Detective Chinatown 3 has delivered the biggest ever opening weekend number in a single territory thanks to its $397m debut in China over the new year holiday weekend. That beats the Avengers: Endgame's $357m North America launch in April 2019 – previously the biggest opening in a single market.
Detective Chinatown 3 has already overtaken the total box office for the first film in the series ($122m in 2015) and is well on the way to passing Detective Chinatown 2's total haul of $503m (2018). Chen Sicheng's action comedy sees two Chinese detectives invited to Tokyo to help solve a crime.
IMAX celebrated success with a $25m haul in China over the CNY holiday weekend – a 45% increase over 2019. (Cinemas were mostly closed in China a year ago, wiping out the 2020 new year box office.) Detective Chinatown 3 grossed $23.5m for IMAX, which is the biggest opening ever for a Chinese title in the format, beating Wandering Earth. IMAX achieved 6% of the total box office for Detective Chinatown 3 with just 1% of China's cinema screens.
Total China box office for the holiday weekend is an estimated $704m, according to Artisan Gateway. In 2019, takings for the full lunar new year holiday period (February 4-10) were $860m. The new year holiday week typically makes up around 10% of China's total annual box office.
Also in China, Jia Ling comedy Hi, Mom debuted in second place with $161.7m; Lu Yang thriller A Writer's Odyssey in third with $48.3m; animation Boonie Bears: The Wild Life in fourth with $38.5m; and Li Weiran fantasy The Yinyang Master in fifth with $24.9m. Completing an all-new top seven for the holiday box office, New Gods: Nezha Reborn arrived in sixth place with $21.2m and Endgame in seventh with $12.1m.
Chinese cinemas are currently operating at around 75% capacity. Beijing cinema operators were told last week that they would have to operate at 50% over the holiday season.
Prior to the holiday weekend, total box office in China had reached $345m after six weekends of play (by February 7), according to Artisan Gateway. That total has now more than tripled.
Soul adds $4.3m for $104m total
Strong holds in South Korea and Taiwan – boosted by the Lunar New Year holiday – helped Disney's Soul to a solid weekend total, despite contracting the number of active markets from 11 to seven. Weekend takings were $4.3m – a 38% drop on the previous weekend – and cumulative total is $104m.
South Korea saw the Pixar animation hold on to the top spot again in its fourth weekend, with estimated weekend takings of $2.4m, up 20% on the previous session. Taiwan box office rose 5%.
Russia continues to be a strong market for Soul, despite a 45% box office drop at the weekend, with takings of $1.6m. Soul overtook Incredibles 2 top become Pixar's second biggest ever hit in Russia, and is now narrowly behind Inside Out, which it should overtake this week.
In cumulative totals, Soul has scored best in China ($57.5m), Russia ($14.0m), South Korea ($13.3m), Taiwan ($6.2m) and Saudi Arabia ($5.9m). Together, those five markets represent 93% of Soul's total cinema box office to date.
Soul is currently playing in markets where Disney+ does not operate. This coming weekend sees Soul arrive in Hong Kong cinemas.
Sony scores local hit in Russia with Rodnye
Sony Pictures International Production's Rodnye (The Relatives) knocked Soul off the top of the Russia box office, with opening weekend takings of $2.2m. The comedy-drama is about a man who takes his family on a road trip to a Russian folk music festival in order to fulfil his life-long dream of performing his own song. Ilya Aksenov (KVN-ers and Na Kray Sveta) directs.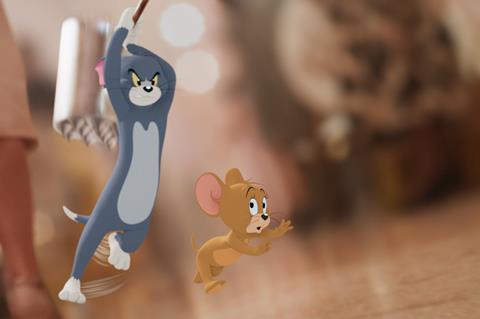 Tom & Jerry takes $1.4m in five markets
Warner Bros launched its Tom & Jerry animated feature at the weekend, beginning in five markets to take advantage of the Lunar New Year holiday in Asia and school holidays in the Middle East. The film debuted in second place in Singapore behind a local title, and takings of $457,000 proved the top territory result. Taiwan was next with $438,000 (and a third-place ranking), and then a chart-topping $375,000 in United Arab Emirates.
Also for Warner Bros, John Lee Hancock's The Little Things took $3.1m globally, holding pretty steady with the previous session's $3.5m. However, it was the domestic result, boosted by the Presidents' Day weekend holiday, that did the heavy lifting, up from $2.1m to $2.4m. International takings slid by 48% to $727,000. Russia ($336,000), Ukraine ($104,000) and UAE ($76,000) were the top markets internationally.
Domestic total is $10.6m, and international is $6.4m, delivering $17.0m globally.
Detective Chinatown 3 and Long Story Short perk up Australia top five
Eric Bana crime drama The Dry held onto the top spot of the Australian box office in its seventh week of release, while fellow local title Penguin Bloom stayed in second place in its fourth week. Respective takings for these two Roadshow releases were Aus$703,000 ($547,000) and Aus$445,000 ($346,000), and cumulative totals are Aus$17.3m ($13.5m) and Aus$5.88m ($4.58m).
Despite the seeming stasis, the Australian box office chart was enlivened by the arrival of two new titles: Detective Chinatown 3 and local film Long Story Short.
The Chinese action comedy sequel grossed Aus$412,000 ($321,000) for distributor Madman, despite arriving in cinemas only on Saturday, whereas in Australia titles typically open on Thursday and the weekend period measured by data gatherer Numero is four days.
Studiocanal's Long Story Short – a high-concept romantic comedy starring Rafe Spall and Zahra Newman – began with Aus$316,000 ($246,000). Spall plays a man who wakes up the morning after his wedding to discover that every few minutes he's jumping forward to the next year of his life. Josh Lawson (The Little Death) writes and directs, and also co-stars in the film. Long Story Short is produced by Australia's See Pictures and Spectrum Films, and Studiocanal, with backing from Create NSW and Screen Australia. Studiocanal handles international sales.