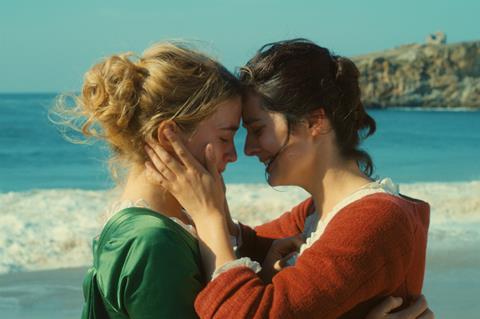 The international box office for French films fell 69.8% in 2020 as a result of the Covid-19 pandemic, according to preliminary figures released by Unifrance on Tuesday (January 12).
According to the French cinema export body's annual report there were 13.7 million spectators for French films outside of France in 2020, against 45.3 million in 2019, for an overall gross of $105m (€86.6m). By comparison, French films generated 29.2m entries at home, which represented a 60.7% drop.
Breaking the international figure down, the study noted that there had been 9.5 million admissions for majority French productions, against 38 million in 2019, for a 75% drop. There were 10.6 million entries for all French-language films, including minority and majority productions, representing a 60.6% fall on 2019.
A total of 611 French productions were released internationally in 2020, against 869 in 2019, representing a fall of 29.7%. In total there were 1,398 release campaigns for French productions across 2020, against 2,836 in 2019.
Unifrance attempted to look past the depressing data to emphasize that French cinema had maintained an international presence nonetheless in the face of the challenges presented by Covid-19.
"Gallic cinema has managed to draw on the richness and variety of its offer to retain its place in the global market: More than 600 different films were screened in one form or another, and there were more than 1,300 theatrical releases, 50 of which made it into the local top 3," said the report.
The body suggested that French productions had helped fill programming holes left by the absence of big Hollywood titles, which were either postponed or moved onto streaming platforms.
"With the exception of French-speaking territories on its doorstep, French films, unlike US films, are never released day-and-date worldwide, or not even over a short interval. As such, distributors and exhibitors could look to French titles to offer audiences something fresh," said the body.
The study also noted that 163 French productions had been selected for eight key international festivals, comprising Berlin, Busan, Cannes, Rotterdam, San Sebastián, Sundance, Toronto and Venice, representing 19.5% of the titles selected.
Top five theatrical exports
Top theatrical exports for the year comprised Celine Sciamma's Portrait Of A Lady On Fire, Roman Polanski's An Officer And A Spy and Ladj Ly's Les Misérables. [see box office top ten below].
Portrait Of A Lady On Fire launched internationally in late 2019, drawing 1.47m spectators overall, for an international gross of $12.2 ($10.8m). Roughly two-thirds of its admissions, or 970,000 entries, were achieved in 2020.
The picture was distributed in 40 territories overall but promising releases in the UK and the US, where Sciamma has a strong following, were stopped in their tracks as the pandemic hit. The title was sold internationally by mk2 films.
An Office And A Spy, which was sold internationally by Playtime, was released theatrically in 27 countries. It also began its international career in late 2019 and drew 1.41 spectators overall, with 730,000 of these generated in 2020.
Oscar-nominated drama Les Misérables generated 670,000 admissions overall, with 570,000 achieved in 2020. The film was sold by Wild Bunch Internationally.
It is worth noting, however, that the Unifrance report does not include streaming revenue, which is collated in a separate study, and that a number of French films performed well on streaming services worldwide after cinemas shut down.
Portrait Of A Lady On Fire, for example, had a successful streaming run in the UK on Curzon Home Cinema platform last March after UK cinemas after its theatrical career was stopped short. Curzon reported at the time that it was its most successful streaming release to date.
Key territories
As a result of the topsy-turvy year, Russia came out as the top international theatrical destination for French films, with 1.46m admissions for overall receipts of €4.29m. This still marked a 50% drop on last year's numbers.
Russia was followed by Spain (1.42m), Italy (1.03m), Germany (950k) and the Netherlands (810k).
This resulted in Western Europe being the top market for French films, followed by Central and Eastern Europe and then Asia, which returned to being the third biggest market, having fallen to fifth place in 2019.
"Previously, growth in the region [Asia] came from China, but in 2020 it was driven by certain markets which saw limited closures of theaters," said the report, noting that South Korea became the leading territory in the region for French film admissions and ninth worldwide.
It described the markets of Africa, Middle East and Oceania as being disappointing in terms of French admissions, as were North America and Latin America, where numbers dropped by around 80%.
Looking to 2021, Unifrance said it was difficult to predict how soon closed cinemas would start reopening worldwide but said it had high hopes for the productions poised to be released internationally as soon as they do.
Buzzy French titles set to hit the international box office at some point in 2021 include Aline, Eiffel, French Tech, Gagarine, How I Became a Super Hero, OSS 117: From Africa With Love, Skies of Lebanon, Spring Blossom, The Big Hit, The Last Journey of Paul W. R., The Rose Maker, The Speech, and The Wolf and the Lion.
French International Box Office in 2020 for majority French films
Film, 2020 admissions, total admissions including 2019, sales agent
Portrait Of A Lady On Fire, 970k, 1.47m (mk2 films)
An Officer And A Spy, 780k, 1.41m (Playtime)
Les Misérables, 570k, 670k (Wild Bunch International)
The Specials, 540k , 880k (Gaumont)
La Belle Epoque, 440k, 960k (Pathé Films)
Spread Your Wings, 270k, 350k (SND)
The Truth, 250k, 660k (Wild Bunch International)
Arab Blues, 230k, 230k (mk2 films)
Yakari, A Spectacular Journey (Bac Films Distribution)