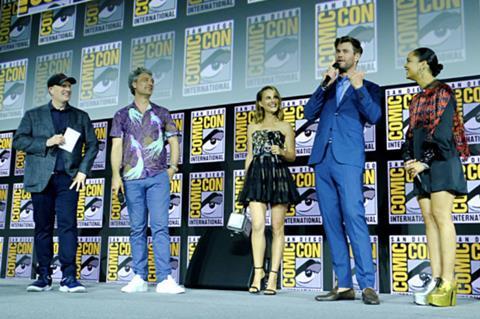 A$1.9bn ($1.36bn) was spent in Australia on local and international drama film and TV production for the 2020/21 financial year, nearly double the expenditure in the previous 12 months and 53% above the five-year average, according to Screen Australia.
The surge illustrates the production boom that has been underway since the industry adjusted to the pandemic. It also indicates the frenzy of activity has been driven by Australia being seen as open for production and safe.
Of this A$1.9bn, 55% or $1.04bn (USD $750m) went towards creating international drama, specifically 10 projects – three features, two television dramas and five online dramas – that used Australia as a location (A$793m / USD $569m), and 53 projects that were filmed elsewhere but accessed Australian post-production services, mostly for visual effects (A$246m / USD $176m).
The figures are contained in the 2020/21 drama report, compiled by Screen Australia, and released on Wednesday (December 8). But some of the A$1.9bn is still being spent now because all the expenditure associated with a project is counted in the year that principal photography commenced, whether it was spent then or not. Expenditure on post-production, however, is only counted in the year it occurred.
There was A$1.01bn (USD $720m) spent on feature films with roughly the same amount spent on three international films and international VFX as was spent on the production of 45 home-grown films.
The three features, Taika Waititi's Thor: Love And Thunder, Mark Williams' Blacklight and Ron Howard's Thirteen Lives, together accounted for A$319m (USD $229m) expenditure in Australia.
The A$874m (USD $627m) spent on all Australian drama titles was an annual record. Of this, A$500m was spent on 42 home-grown features principally sourced from international investors (47%) and government (42%), with the rest coming from industry and Australian private investors. A further A$24m (USD $17.2m) was spent abroad.
At the big-budget end was Baz Luhrmann's still untitled Elvis Presley film and George Miller's Three Thousand Years Of Longing. About 80% of all the films were made for less than A$10m (USD $7.17m) and eight titles were made for more than A$10m. The four official co-productions among the 42 titles are Benjamin Millepied's Carmen with France, Adam Gunn's Mia And Me: The Hero Of Centopia with Germany, and Armagan Ballantyne's Nude Tuesday and We Are Still Here, which are both with New Zealand. We Are Still Here is made by various directors.
The figures represent expenditure in Australia – the budget of some titles in the slate would be bigger because of offshore spending. Drama encompasses any scripted narrative made for cinemas, broadcasters and streamers, and online.
Screen Australia chief executive Graeme Mason said in a media statement that it was unprecedented to have 10 big international productions – film and TV – shooting in Australia and especially notable that so many had key Australian key creatives involved.
"From Chris Hemsworth starring in Thor: Love And Thunder and Escape From Spiderhead, to Bruna Papandrea, Nicole Kidman and others bringing the adaptation of Liane Moriarty's Nine Perfect Strangers to Australia a mix of local and global talent and finance drove this extraordinary result," said Mason.
"Australia cemented its reputation as a leading destination for international productions in 2020/21, thanks not only to our world-class cast, crew, facilities and stunning physical locations and Australia's lower rates of Covid-19 but also due to the incentive and investment framework supported by the federal, state and territory governments."
Screen Producers Australia took a different tack, saying that so much international production was a welcome economic boost but did not provide "any local upside" in terms of generating intellectual property. It offered fewer opportunities for local creatives and cast than local production, contributed minimally to building sustainable local production businesses and did not enhance Australia's ability to create its own cultural content.
The government has relaxed local content quotas on free-to-air commercial networks and not imposed them on streamers and, wanting to give weight to the negative impact of this, CEO Matthew Deaner also emphasised that the number of hours of television drama made was the lowest for five years.
Screen Australia attributes the overall production boom to a range of factors, including "projects postponed into the year by Covid shutdowns; low levels of Covid-19, the attractiveness of Australia as a production destination, the strength of local production teams and infrastructure; foreign titles encouraged into Australia by key Australian creatives; and a strong slate of new Australian projects".
Mason said Covid-19 will disrupt some international production in Australia into 2021/22, as the sector and the country continues to adapt to the ongoing challenges of the pandemic.
"However, several high-profile titles are either currently underway or slated to begin, including Joe Exotic, Nautilus, Ticket To Paradise, Woody Woodpecker and Young Rock series 2," he said. "New studio facilities are being considered or under construction in locations around the country, including in Perth, Melbourne, Canberra, Western Sydney, northern New South Wales and Cairns."
According to its recently table annual report, Screen Australia put A$15.9m (USD $11.4m) into Australian television drama, A$13m (USD $9.3m) into documentary, A$10.7m (USD $7.68m) into children's television, A$9m (USD $6.46m) into features and A$4.5m (USD $3.23m) into online drama. The budget of the First Nations Department was A$2.7m (USD $1.94m) in 2020/21 but other pots of money also fund First Nations projects. Nearly A$10m in additional funding was spent on development, talent development, distribution and international marketing.
As well as providing direct funding, the agency administers the Producer Offset on behalf of the government. There were 118 Australian projects that received a total of A$175.1m (USD $125.6m) from this tax rebate.