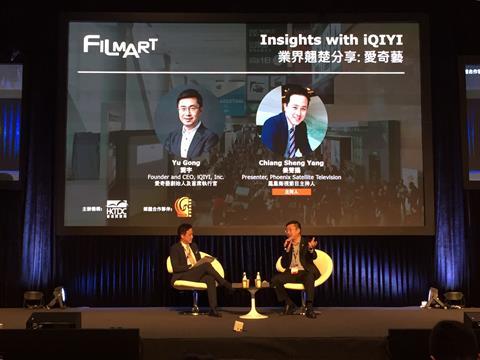 iQiyi founder and CEO Gong Yu talked about China's changing content investment models and the need to develop new talent in his 'Insights with Industry Leaders' talk at Filmart yesterday.
"In the past, movies were just for theatres, but although China will become the world's biggest theatrical market, box office growth is slowing. The room for future growth is limited, so theatrical films should be working more closely with online platforms," said Gong.
"Secondly, lower-budget films can only work on online platforms. At iQiyi we have either the investment mode of cooperation or can do a revenue split. In the past year, we've had more than 1,000 online films on our platform, which were well received by the China audience. Of course, big-budget films can't only play online – so we need innovative investment models for these films."
Gong also talked about the need to invest in creative talent as well as the technology side of the streaming business: "We've made a lot of good dramas, movies and anime, but we need creative talent as well as engineers to make it happen – and we need to respect their unique characteristics."
He later said there is a need to balance creativity with the Chinese streaming sector's current obsessions – data on internet traffic and IP. "Before we relied too much on traffic and IP – but now we have more focus on creativity. For drama, we know that originality is something we need to focus on."
He also talked about the issue of fake data in China, where it's possible to buy fake followers and likes. About six months ago, iQiyi made the bold move of taking down view counts from its videos and only sharing the data with advertisers and producers. "It created some confusion at first, but now our algorithms are more mature and it's more difficult to cheat."
iQiyi's drama series, starting with The Lost Tomb in 2015 and more recently Story Of Yanxi Palace, have been credited for kickstarting paid SVOD subscriptions in China, which now top 300 million across all platforms. Iqiyi's paid subscribers alone number some 80 million.