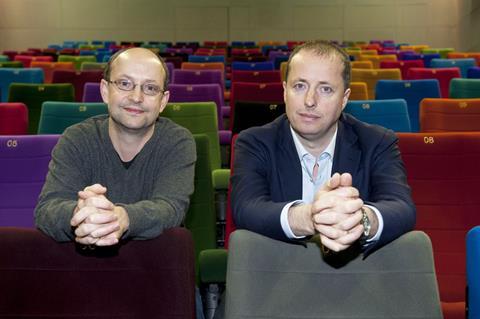 Prolific Irish outfit Element Pictures (headed by Ed Guiney and Andrew Lowe) is preparing a new feature with Mamma Mia! director Phyllida Lloyd and one which will mark the English language debut of Grímur Hákonarson, the director of Icelandic hit Rams.
Speaking to Screen International during the 4th Zurich Summit, Guiney revealed details of the projects. Guiney also said that Element was about to open a new cinema in Galway (The Picture Palace) and discussed the importance of the company's ongoing relationship with Film4 when it comes to development.
The Phyllida Lloyd project is slated to be made in Ireland next year but Guiney is keeping details about it close to his chest. Among other projects the company has in development in Ireland is Rosie, a new feature to be directed by Paddy Breathnach from a Roddy Doyle script.
In 2015, one of Element's films, Room, was nominated for four Academy Awards while another, Yorgos Lanthimos' The Lobster, won the Jury Prize in Cannes and was also Oscar nominated.
"It's so much easier if you are trying to get the attention of buyers or actually talent if you've got a film that they recognise," Guiney commented of the success of these films as well as of features like Frank and Garage directed by Lenny Abrahamson and Disobedience directed by Sebastian Lelio. "Our association with such good filmmakers helps us when we are approaching other filmmakers. People see we are able to make distinctive films with high profile casts that get out into the world."
Quality not quantity
Element Pictures has made four features over the last year: The Killing Of A Sacred Deer and The Favourite from Lanthimos, Disobedience and The Little Stranger from Abrahamson.
The aim is to make two to four features a year - and to continue working with the directors the company already has relationships with.
Guiney wasn't giving away many details of the Grímur Hákonarson project but said that Element was looking to work with directors like Hákonarson, Lanthimos and Lelio who already have a "real track record" in non-English language film and to "help" with their English language projects.
"Film4 have been incredibly important to us over the years," Guiney commented of Element's UK partners on almost all of their recent hits.
Development resources
With Film4's Head of Creative Rose Garnett (a regular collaborator on recent Element's projects) appointed Director of BBC Films earlier this year, Guiney suggested that the BBC was now "a relationship which might open up for us as well."
Guiney and Lowe have tended to use the "development resources" that Film4 can offer them to "build a cocoon around the development of a film so you can really find through that phase what its best version is. That means script, that means budget, that means cast and the ambition for the film. Once you've figured that out in a protective environment, you go out into the world inviting partners to join you. The dynamic is much more 'ok, we are going to make this movie, do you want to be on board' rather than asking permission to get the film done. That's a very enabling model."
Element is a vertically integrated company. It has its own distribution arm, its own cinemas, an office in London, a TVOD platform and also works on TV projects as well as feature films. "Andrew and I work very well together. I run our development and production and he runs our business affairs, distribution and exhibition business. Very early on, we identified that just producing movies is a really hard thing to do. We've always tried to do other things to support that.
"Where we can, not always, we try to have a hand in the distribution of our films which is obviously another revenue stream."
Element has always worked closely with European partners in general and with the UK in particular. Asked about the vexed subject of Brexit and its likely impact on its relationship with the UK, Guiney responded: "It's a real head-scratcher. We very much see ourselves as part of the British ecosystem. We see ourselves as British producers. We are very active in the UK…where it really is going to be tough is obviously all the really important [EU] MEDIA money that is available to UK producers and distributors, which is really important. That is going to dry up and that is really problematic. "