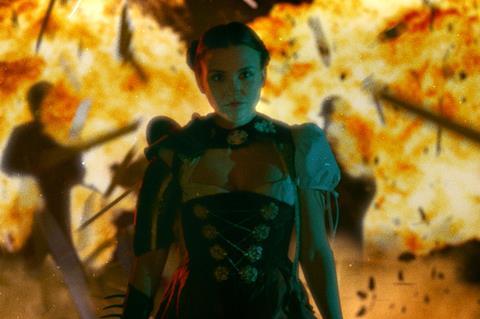 Director Johannes Hartmann and producers Tero Kaukomaa of Blind Spot Zurich and Valentin Greutert of A Film Company, whose credits include One Way Trip and Amateur Teens, have launched a crowdfunding campaign for Mad Heidi.
The filmmakers are describing it as the first "Swissploitation" film.
A crowdfunding site and merchandise store launched last week for the film,at madheidi.com. The team is selling 'Heidi Bonds' that can be used to get rewards, to support production.
The first goal of $30,000 for development funding was raised in just five days.
The pitch from the film team is: "Let's take famous Swiss mountain girl Heidi, cheese and the beautiful alps and combine them with Nazi gold, chocolate and Swiss Army Knives. Add a few gallons of blood and lots of fun. That's Mad Heidi!"
The story will see Heidi now grown up and living in a near-future Switzerland, which has sealed itself off as an island of the rich and is run by a despotic cheese magnate. She is abducted by brutal government troops and fights back.
Hartmann of Bern-based Decoy Films will make his debut feature after working in music videos, commercials and short films including Halbschlaf and Deadlocked.
The director tells Screen, "Swiss people are very reserved, introverted and shy – and so are their movies. Some people say, we are too rich and we don't have enough problems, that's why we can't make impactful movies with substance. This mentality leads to a lack of good films, and especially to a lack of genre films."
The film's budget will be about $1m. Production is planned for autumn 2019 with a release in 2020.
Kaukomaa, who is Finnish but lives in Zurich, said he hoped the selling of the Heidi bonds could "prove the concept of a new business model of producing films…I call it crowdfunding 2.0…the idea is to take it one step at a time." The next steps to raise finance for will be pre-production.
The producer, whose credits include Iron Sky, says the entire $1m budget could be raised by crowdfunding. Alternatively, he is confident the budget can be raised with private equity, tax incentives or even backing from the Swiss government's film funds.
The team shot a promo in 2017 and Kaukomaa tells Screen "it created an obvious fanbase quite quickly." He said the fanbase so far appears to be about 50% Swiss and 50% international.
For distribution, he added, "One principle we hold onto is fans first, they get to see it first." Distribution can include theatrical as well as a digital release.
Hartmann says the international appeal of the traditional Heidi will also open up other markets: "Since Heidi is the most famous story character from Switzerland, it will potentially attract many more people around the globe – even people who are not typically watching genre films. Especially Japan will be an interesting audience, because they love Switzerland and Heidi, so I'm really looking forward to release a Japanese version of our teaser to see how they react to Mad Heidi."
Iron Sky updates
Meanwhile, after some delays in post-production because of changing finance structures, Iron Sky: The Coming Race, will finally have its world premiere in Finland on January 16, with fans from around the world invited to the premiere. SF Studios is handling the Scandinavian release.
A Berlinale slot is possible because the first Iron Sky screened in the Panorama section at Berlinale 2012. "And then it will be out as soon as possible everywhere after that," says Kaukomaa.
The Ark - An Iron Sky Story, the Chinese spinoff in the franchise, will be released sometime in 2019. It will first premiere in China via China Film Group and potentially another partner; and then roll out globally. Andy Garcia and Duan Yihong lead the cast.
Director Timo Vuorensola is also confirmed the third film in the original trilogy, Iron Sky Endgame, will be set on Mars, and will shoot at the earliest in 2020.