Talking with TIFF CEO Piers Handling, Huppert discussed her career, which includes over 100 film credits.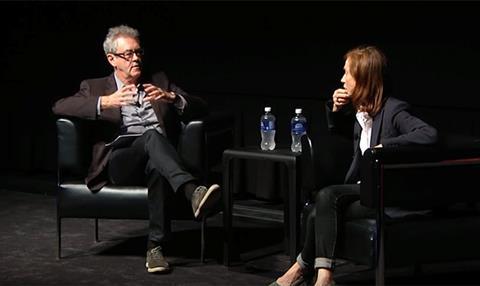 Isabelle Huppert is in focus at the 2016 Toronto Film Festival (TIFF), with the French actress starring in three films in this year's programme: Elle, Souvenir and Things To Come.
Speaking to festival director and CEO Piers Handling in a masterclass on Saturday (Sept 10), Huppert – whose resume includes over 100 films, television and theatre productions, peppered with a bevy of awards recognition including 15 Cesar nominations – spoke candidly about the highs and lows of her career.
Michael Haneke, Michael Cimino, Claude Chabrol and Claire Denis were among the list of directors she gave credit for helping her to grow as an actress. French New Wave director Chabrol, she said, gave her little direction, in turn granting her almost complete artistic license.
"Working with a director is like building a strong friendship. There is desire, there is love – and for me, reality and truthfulness," said Huppert. "With Claude, we trust each other very much, but often we have a limited amount of dialogue exchange. Sometimes he gives me just one line of direction for the entire production."
She remembered Chabrol asking her to play the lead in 1991's Madame Bovary, insisting if she didn't do the film, then he wouldn't do it. Huppert's trust in the director led her to taking the part, but it was only when she was on the plane to begin production on the film did she read the script.
"I thought to myself, 'Oh my God', but then it was too late, the plane was landing," recalled Huppert of his darkly romantic adaptation of Gustave Flaubert's 1857 novel.
Heaven's Gate
The actress also discussed Michael Cimino's Heaven's Gate, one of the biggest disasters in film history.
"The film was a poem that audiences were not ready for," said Huppert of the epic Western that centred around the dispute between land barons and European immigrants in 1890s Wyoming.
Cimino, who died in July this year, discovered the actress when wandering into a French cinema in New York, and seeing her briefly in Chabrol's Violette. "I think he only had a few minutes away from his office. When he saw me on screen, he apparently said, 'That's who is going to star in my movie'."
The actress was scheduled to shoot for two months, but stayed for seven due to budget overages and delays. "It was like being in summer camp. I learned to ride horses, to shoot guns. It was a tremendous experience and Michael was such a visionary."
When the film was screened in New York in 1980, followed by a screening in Toronto, critics and audiences unanimously criticised the film. "We [Cimino, Huppert, Kris Kristofferson and Christopher Walken] went on to LA, and I remember getting a call from Michael in the middle of the night saying he was going to cancel the premiere and re-cut the film.
"When the new version premiered in Cannes, the reviews were not any better. I think it was an unfair reaction – people made a mistake. Maybe it was just too harsh or it was an anti-Western audiences weren't ready for," said the actress.
Huppert also recalled the eye-opening experience of working with Otto Preminger on the 1975 terrorism drama Rosebud. "This was my first big-budget feature, and I was completely shocked. It was like I was watching a Hollywood movie unravel in front of me."
She discussed Preminger's firing of lead actor Robert Mitchum and subsequent hiring of Peter O'Toole, along with the disorganised structure of the set. "The adventure was both mad, and wonderful. I just remember the whole experience working with my mouth wide open in wonder."
Toronto
Huppert is in Toronto with three separate films in which she plays a strong woman regaining control in a potentially powerless situation.
Discussing in more detail her working relationship with Elle director Paul Verhoeven, she said the experience had been "completely independent".
"The movie is about a woman who is raped, and decides to shift the power between the victim and the avenger. It's never cynical – there are many different aspects to it. Paul told me, 'You know more about how this would feel, so do what you feel is right.' I once again had the freedom to make artistic decisions that I felt were right," she said.
Huppert concluded the session by admitting she is proud of her body of work, both in France and the US: "I think this is proof of the amazing encounters I have had with directors. Maybe they feel lucky too."