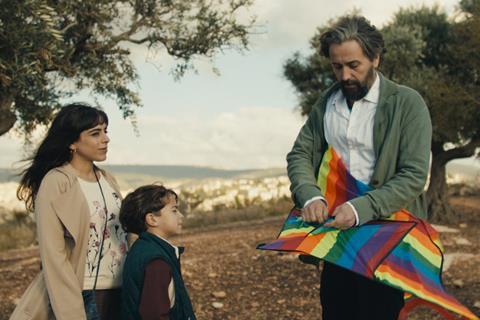 Eran Kolirin's Let It Be Morning will be Israel's submission to the 2022 Oscars after it won best film at the Israeli Film Academy annual awards, known locally as the Ophirs, on Tuesday (October 5).
The Israeli production unfolds against the backdrop of a Palestinian village situated in Israel close to Jerusalem that is suddenly cut off from the city by an unexplained army roadblock.
Israeli director Kolirin adapted the mainly Arab-language feature from the 2006 novel of the same name by celebrated Palestinian writer Sayed Kashua.
With deadpan humour and touches of tragedy, the feature captures the reality of the 1.9m Palestinian citizens of Israel who make up 21% of the country's population.
The winner of the best film at the Israeli Academy Awards automatically becomes Israel's Oscar submission. Let It Be Morning swept the board at the ceremony on Tuesday evening, clinching seven prizes.
Kolirin also won best director and best screenplay and Palestinian co-stars Alex Bakri and Juna Suleiman won best actor and best actress respectively. Fellow Palestinian actor Ehab Elias Salami won best supporting actor. Suleiman also won best the prize for best casting.
In other Ophir awards, Reymonde Amsellem won best supporting actress for her performance in Amir Amir Manor's Tel Aviv-set prostitution drama The House On Fin Street.
Gidi Dar's feature animation Legend Of Destruction won best music, art design, editing and sound design. Best documentary went to Vanessa Lapa's Speer Goes To Hollywood about Nazi Albert Speer's attempt to sell the rights to his life story.
Avi Nesher's Image Of Victory, which was a frontrunner at the nomination stage alongside Let It Be Morning with 15 nominations, won best cinematography, best costumes and best make-up.
Other candidates in the best film category included Dani Rosenberg's The Death Of The Cinema And My Father Too and Nadav Lapid's Cannes 2021 Jury Prize winner Ahed's Knee.
Provocative choice
The selection of Let It be Morning as Israel's Oscar submission will likely provoke debate. Its selection comes at a complex and tense time for Palestinian citizens of Israel. There was widespread unrest across the population over the summer following Israeli attempts to evict Palestinian families from their long-time homes in East Jerusalem.
At the same time, the inclusion of an Arab party in Israel's new coalition government for the first time in history in July has opened up a fresh dialogue around the treatment and rights of Palestinians with Israeli citizenship.
Let It Be Morning had a contentious festival launch in Cannes this July after most the cast, including Bakri, Suleiman and Salim Daw, refused to attend the world premiere in Un Certain Regard.
They explained in a collective statement that their non-appearance was aimed at highlighting the "decades-long colonial campaign of ethnic cleansing… against the Palestinian people" and the "latest wave of violence and dispossession".
Bakri and other key cast members got behind the local premiere to an Israeli and Palestinian audience at the Haifa International Film Festival in September, where the film went on to win best film, best screenplay and a first best-supporting actor win for Salami.
Israel's film industry has a history of selecting locally provocative films to represent the country at the Oscars, with past submissions including Waltz With Bashir, Bethlehem and Foxtrot.
Let It Be Morning is lead-produced by mainstream Israeli film and TV company Dori Media in co-production with France's Les Films du Poisson, with the support of the Israel Film Fund and French National Cinema Centre (CNC). The Match Factory handles international sales. Lev Cinemas is handing its Israeli release.
Kolirin's 2007 comedy-drama The Band's Visit was also selected to represent Israel in what was then known as the foreign language category but was rejected by the Academy of Motion Picture Arts and Sciences because more than 50% of the dialogue was in English.