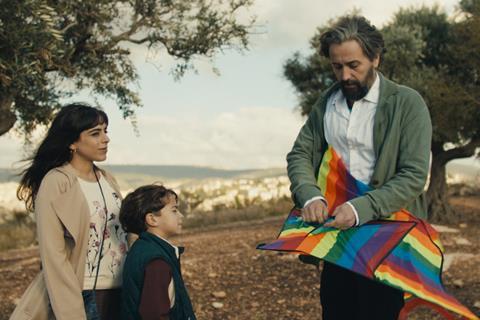 Cohen Media Group has acquired North American rights to Israeli writer-director Eran Kolirin's Let It Be Morning, which is Israel's submission to the best international film category of the 2022 Oscars.
The mainly Arab-language feature unfolds against the backdrop of a Palestinian village situated in Israel close to Jerusalem that is suddenly cut off from the city by an unexplained army roadblock. It is adapted from the 2006 novel of the same name by celebrated Palestinian writer Sayed Kashua.
The Match Factory handles international sales on the film, co-representing North American rights with ICM.
Alex Bakri stars as a Palestinian citizen of Israeli who thought he was assimilated into Israeli society until he finds himself stuck in his childhood village after a family wedding. Unable to get back to his home in Jerusalem, his professional and personal life starts to crumble.
The film had a contentious festival launch in Cannes this July after its mainly Palestinian cast led by Bakri, Juna Suleiman and Salim Daw refused to attend the world premiere in Un Certain Regard in protest at the treatment of Palestinian people by Israel.
It automatically became Israel's Oscar submission when it won best film at the Israeli Ophir awards in October after the Israeli film industry got behind it.
The feature is produced by Nadav Palti, Ra'anan Gershoni, Keren Michael, Tami Mozes Borovitz and Yoni Paran at Israeli film and TV production company Dori Media with France's Les Films du Poisson.
"Let It Be Morning is a must-see film about the state of our world today, and we are thrilled to bring it to the wide audience it deserves," said Cohen Media Group's chairman and CEO Charles S. Cohen.
The film will have get its US premiere on November 4 as the opening film of the 15th Other Israeli Film Festival, which highlights the best in cinema from Israel and Palestine and provides an internationally recognised platform for meaningful discussion on the past, present and future of the region.
The film will screen in-person at the newly renovated Carole Zabar Center for Film's Goldman-Sonnenfeldt auditorium at the Marlene Meyerson JCC Manhattan.
Kolirin's 2007 comedy-drama The Band's Visit was also selected to represent Israel in what was then known as the foreign-language film category but was rejected by the Academy of Motion Picture Arts and Sciences because more than 50% of the dialogue was in English.