Jerusalem Film and Television Fund's animation event The Hop, Skip & A Jump is aiming to grow the city's fledgling animation scene.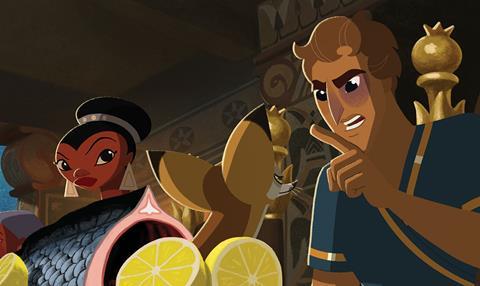 The first edition of a new event aimed at Jerusalem's nascent animation industry – called The Hop, Skip & A Jump – kicks off on the fringes of Jerusalem Film Festival on July 13. The three-day meeting, comprising mentoring sessions, master-classes and the pitching of 14 new Israeli animation projects, has been put together by Jerusalem Film and Television Fund director Yoram Honig, who says it is the third stage in his fund's campaign to build an animation industry in Jerusalem.
The first stage was direct investment in Israeli animation features Including Albert Hanan Kaminksi's Being Solomon [pictured] and Gidi Dar's Legend Of Destruction which are currently in production (Being Solomon was also part of this year's Pitch Point event). The second stage was the introduction of a 30% rebate for every dollar spent in Jerusalem for animation productions made in the city. That measure has been vital in helping the city's largest animation company Snowball Studios win contracts to work on Mattel's Barbie Dreamtopia and Disney Junior Channel's Star Darlings. More work is expected to arrive in the coming months. "The aim now is to enlarge the animation talent pool and help generate more Israeli animation IP," says Honig.
Under The Hop, Skip & A Jump initiative, 14 pilot projects have been developed in co-operation with US animation companies Sony Pictures Animation, DHX Studios and Corus Entertainment. "They sent us a set of criteria for what they were looking for and then we put out a call for projects," says Honig, who received around 30 submissions before settling on 14 in total. "We've been working with local talents to bring them to a higher level."
In the final leg of The Hop, Skip & A Jump initiative, Sony Pictures Animation SVP Rick Mischel, DHX SVP and general manager Ken Faier and Irene Weibel, VP of Corus Entertainment, will come to Jerusalem in October to select a final four projects. "The idea is that between them they will give $50,000 to each of the selected projects which we will match to help their further development.," says Honig.
The 14 projects, which will be pitched for the first time on Friday, include Tomer Sarig's Jurassic Junk, about a boy growing up with his grandmother in a town called Junk City; Kora's Garden, about a day-care facility for young animals; and Ishai Ravid's The Adventures Of Prester John In The New World, which is being supported by Snowball Studios.