Screen Star of Tomorrow Jörn Threlfall discusses his short film Over, a mystery told in reverse, which was nominated for a Best British Short Film BAFTA.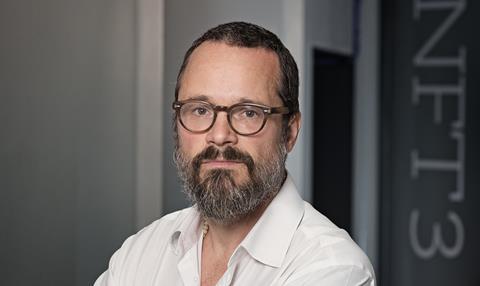 After taking home the grand jury prize at this year's Palm Springs Film Festival, current Screen Star of Tomorrow Jörn Threlfall's short film Over has now garnered him a BAFTA nomination.
Telling its story in an usual way, the film chronicles a day in reverse, featuring only nine wide, static shots with inaudible dialogue. It has also been selected in the international narrative short category at the Sundance Film Festival (Jan 21-31).
Threlfall has found success with several shorts on the festival circuit, including Mexican immigration story Mojado in 2014. He is represented by Outsider as a commercial director, and has won the Gold and Black Pencil at the D&AD Advertising Awards.
Screen caught up with the emerging director to discuss Over's audience appeal and his ambition to move into feature films.
What was your reaction to the recent BAFTA nomination?
The BAFTAs are just the cherry on top. Over is not your standard fare, your traditional narrative. I hoped to intrigue some people and maybe get some wide eyes. Many might find it a more conceptual piece.
The fact that it's resonated so widely and continued this way has been incredibly profound and emotionally gratifying for me. I've been nominated for a film that is rather unusual, and some might say quite difficult. Nine wide static shots and very little dialogue, barely any cast! In a way it is like an installation.
What brought you to the idea of this unusual structure for Over?
Conceptually, on a visual and sound level, I was trying to offer the viewer a slightly different way of engaging with the story. I felt the narrative was so sad, desperate, and outlandish that it demanded a different way of telling.
The viewer becomes the detective in a way. I was worried about the wide shots- were they a little too audacious for a viewer? I don't allow the viewer to get close to the crime scene; I'm offering them little pieces. Over the last few months I've watched audiences at various festivals, I can see people physically leaning forward as they watch, they want to know more! It's a really interesting process to withhold something and make the viewer lean in. Thankfully, I think most people have responded with intrigue and a bit of bewilderment.
The subject is a huge surprise, which is revealed at the end of the film. What drew you to the subject?
It was a small newspaper story I read some years ago. Immigration is a theme that has been with me a while. I made a short film in Mexico, Mojado, which also deals with these themes.
My mother is originally from eastern Europe, and I sometimes ask myself why I'm so fascinated with this subject. London is thought to be El Dorado, people want to come here and they view it as a safe haven. That's what drew me to the story. It's a take on an immigrant story that was just too surreal for words, and it took place on our doorstep.
It is incredible to think that something so outlandish could take place in somewhere this ordinary and mundane. When those two things come together, it creates this incredible tension. I couldn't stop thinking about it.
What's next on the horizon?
Immigration is still a subject I'm interested in. I have an idea for a longer film about immigration and deportation that I've been researching for a few years, it has stayed with me in the back of my head. At some point I'd love to explore that, but I haven't written it yet. It's certainly peripheral.
I do have a feature script that is very different. It's a dark, surreal story about teenage love, imbedded within a psychological landscape. It deals with a medical psychological condition. It is quite tender, but set against something very dark. It hopefully creates tension between the love story aspect and something quite horrific.
I'm in talks with UK production company and I did write it with England in mind. However, I don't want it to take place in a literal landscape, I'd like to keep it abstract. The story is timeless, and it plays out like a metaphor.