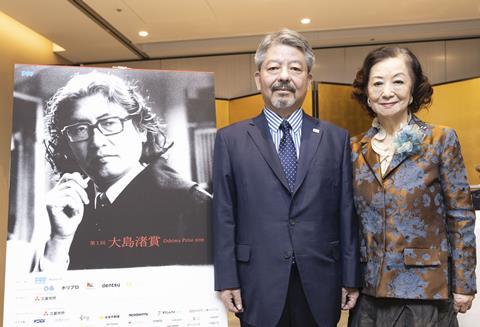 Japan's Pia Film Festival (PFF) is launching a cinema award in honour of Japanese filmmaker Nagisa Oshima, which is designed to recognise 'next generation' talents and give them exposure on the world stage.
Conceived by Oshima's widow, actress Akiko Koyama, the Oshima Prize will be presented to young Japanese filmmakers who "following in the footsteps of Oshima, continue to take on challenges on an international scale and after making their commercial debuts".
One of the masters of Japanese cinema, Oshima directed films such as In The Realm Of The Senses (1976), Empire Of Passion (1978), which won best director at Cannes, and Merry Christmas Mr. Lawrence (1983). He was also a strong supporter of new talent and a member of the PFF jury from 1979 to 1988.
Internationally acclaimed musician and composer Ryuichi Sakamoto, who scored Merry Christmas Mr. Lawrence, will serve as president of the jury for the new award, which also includes Japanese filmmaker Kiyoshi Kurosawa and PFF director Keiko Araki.
The first winner of the prize will be announced in February 2020. The ceremony will take place on March 19, 2020 at Marunouchi Hall, Tokyo, followed by screenings of the prize winner's films and Oshima classics the following day.
"The reason why we asked Ryuichi Sakamoto to be the president of the jury is because Oshima's works are highly estimated outside of Japan, more than in Japan, and we wanted to have a point of view from overseas," said PFF founder and executive producer Hiroshi Yanai.
Akiko Koyama said: "PFF has discovered many wonderful filmmakers, and Oshima, being a member of the jury, enjoyed seeing new filmmakers and emerging talents. When he served as jury, he would come home late then spend hours talking to us about the duty of the jury, the films which he saw.
"Oshima wrote me a love letter when he was young and said, 'I'm going to be a world-renowned director one day, and I'll take you overseas,' and he followed up with his word. He always had an international audience in mind in making his films, and he wanted his films to have global appeal. Oshima was also interested in bringing young talent to the world."
Filmmakers working in Japan with around three theatrically released works will be eligible for the award, and as a general rule, must have released a work the prior year. Five filmmakers will be nominated by film industry professionals, festival directors, programmers and critics, both in Japan and overseas. The jury will then select one recipient.
Launched in 1977, Pia Film Festival focuses on independent (self-produced) films and has nurtured the careers of acclaimed directors such as Sion Sono, Gakuryu Ishii, Shinya Tsukamoto, Shinobu Yaguchi and Yuya Ishii. Keiko Araki serves as director of the festival, which takes place in September at the National Film Archive of Japan in Tokyo.