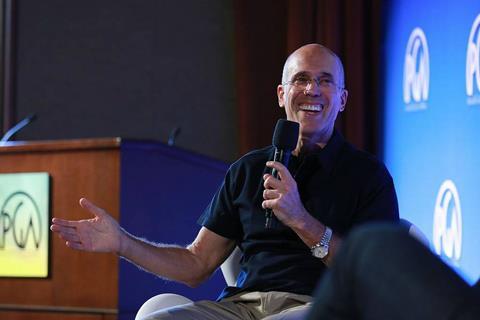 JUNE 9 UPDATE: Short-form mobile streaming service Quibi will launch in April 2020 and could be the catalyst for "the next great growth opportunity for producers, for story tellers, for the entire ecosystem of Hollywood," according to founder and chairman Jeffrey Katzenberg.
Steven Spielberg and Steven Soderbergh have become the latest big names to embrace the idea. Katzenberg's longtime friend Spielberg will create a horror show called 'Spielberg After Dark' (Katzenberg revealed at Banff World Media Festival in Canada on Sunday, adding that Spielberg wants it to only play when the user's phone knows it is dark outside), while Soderbergh and partner Michael Sugar will produce a project for the service.
Katzenberg and Quibi CEO Meg Whitman laid out their strategy for the service, which is aimed primarily at mobile phone users, at the weekend's Produced By conference (8), staged by the Producers Guild of America and hosted on the Warner Bros lot in Los Angeles.
The former co-founder of DreamWorks Animation and chairman of Walt Disney Studios said the service's early 'lighthouse' content will consist of two to two-and-a-half hour stories presented in 15 chapters of 7-10 minutes each and budgeted at around $6m an hour. A new chapter will be released each weekday, aimed at a core audience of 25-35-year-olds. Ad spots in various formats will be included but will only amount to about two-and-a-half minutes for each hour of content.
"We look at this not as short form, but long form in chapters," Katzenberg said. Following on from the development of cinema and then television, he added, Quibi is attempting "to go to the next generation of film narrative."
Quibi expects to spend $1bn on 7,000 pieces of original content in its first year. Jason Blum and Doug Liman are among producers already working on projects for the service.
No details of the Soderbergh project were revealed, but the Quibi founders did give some background on their deal with Training Day director Antoine Fuqua, who is producing war veteran drama #Freerayshawn for the service.
Quibi, they said, will screen the chapter-by-chapter version of the drama exclusively for seven years. But Fuqua will be able make a long form version of the project as well and, said Katzenberg, "After two years he owns it free and clear and it can be sold to whoever wants to buy it out there in the world."
Quibi will be launched with a $470m year-one marketing budget and will be offered to users for $4.99 a month, or $7.99 for an ad-free version.
Whitman, the former Hewlett Packard Enterprise CEO and eBay president who brings her Silicon Valley expertise to the venture, suggested that Quibi differentiates itself from Snapchat, Instagram and YouTube in the same way that HBO once distanced itself from other television networks. "We're not social media. We're Quibi," she said, echoing a one-time HBO slogan.
Whitman added that Quibi will seek to raise another chunk of financing – expected to be around $500m – to add to the $1bn it has already raised from backers including Disney, NBCUniversal, WarnerMedia, Lionsgate, the UK's ITV and China's Alibaba.
Katzenberg suggested that with content from legacy and streaming players not yet being viewed widely on mobile phones, the emerging market is "ours to lose" because it is based on "a well established customer behaviour. Two-and-a-half billion people are walking around with these things," he said, holding up his own smartphone. "If you took HBO, Netflix, Amazon and Hulu combined, less than 10% of their viewing is on this."