Stillman is writing six more The Cosmopolitans episodes, but is making changes from the pilot.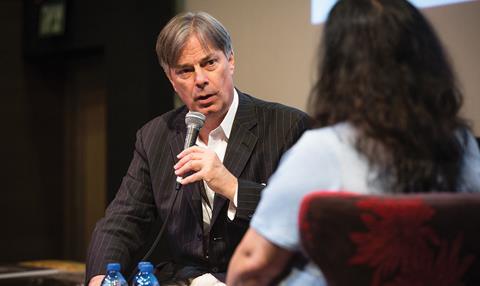 Attending Jerusalem with his latest feature, period comedy Love & Friendship, writer-director Whit Stillman updated Screen on his ongoing TV series project The Cosmopolitans, which he is working on with Amazon Studios.
Stillman created a pilot for the show back in 2014, featuring Chloe Sevigny (who also stars in Love & Friendship opposite Kate Beckinsale) and Adam Brody in the story of a group of young ex-pats living in Paris.
Amazon Studios, which distributed Love & Friendship in the US, has commissioned six more scripts, which Stillman is now writing. However, the series will see changes from the pilot.
"It's been two years since I did the pilot so I'm no longer interested in that story, but I really like the actors and the characters. It's going to go in a new geographical and story direction, but with some of the same characters," he reveals. "It's going to go to different cities and have more adventure."
The director is also pursuing two feature ideas, one of which is the long-gestating Dancing Mood, about a gospel church in 1960s Jamaica.
Stillman is hopeful that project might finally get off the ground: "I would like to do that [Dancing Mood] first but it's a crazy project so I'd need investors willing to do something really risky."
The Oscar-nominated writer-director's credits include Metropolitan (1990), The Last Days Of Disco (1995) and Damsels In Distress (2011). Love & Friendship, adapted from Jane Austen's epistolary novel Lady Susan, premiered at Sundance in January and has been an international success. "I've never had a film get in the top 10 of any country," he says. "Love & Friendship has been top 10 in the US, UK, Netherlands and Norway — it's been incredible."
Speaking at a Q&A following Saturday's festival screening of the film, which was greeted with rapturous applause from the Jerusalem audience, Stillman explained the origins of the project. "I had a vanity that I could write original stories that people would be interested in. After my third film, I realised I had nothing else in my life to write about," he joked. "So I became interested in finding material to adapt."