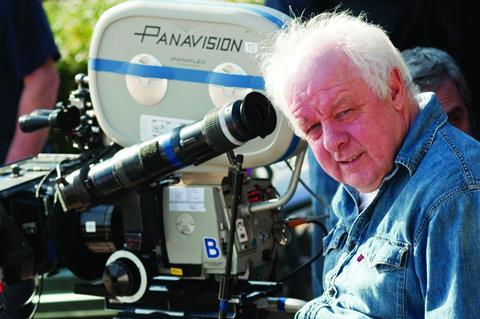 Six-time Oscar-nominated Irish director Jim Sheridan is writing and will direct Murphy And The Indian, the true story of Standing Bear, a Native American and civil rights leader who won a landmark 1879 legal case.
Standing Bear argued in the historic case that Native Americans are "persons within the meaning of the law". The Ponca Chief was recently honoured with a statue in the US Capitol.
The project has received development financing of €22,500 from Screen Ireland in its latest round of funding decisions.
Sheridan's Hell's Kitchen is producing the project and also received Screen Ireland backing for three further Sheridan projects.
The veteran filmmaker is also developing Sheriff Street, a drama set on the north inner city Dublin street where he grew up, which he will also direct. It tells the story of a boy who makes a deal with God that if his brother survives he will never sin again. Screen Ireland has backed the project with €33,713 in development funding.
In Absentia, a long-gestating documentary written by Colm Quinn with Quinn and Sheridan co-directing, investigates the high-profile case of the murder of Sophie Toscan Du Plantier.
The French national was found murdered outside her holiday home in West Cork in 1996. Ian Bailey was arrested in relation to the killing but has always maintained his innocence. This year, he was convicted in absentia by a French court for the killing.
Sheridan has been working on the documentary feature for five years with access to both Bailey and members of Du Plantier's family. He has extensive footage and interviews and has also had offers to develop a TV series. The project has received production funding of €150,000 from Screen Ireland.
Development funding
Projects from filmmakers including Emer Reynolds, Marian Quinn, Aisling Walsh and David Turpin are also being backed by the Irish film and television body.
Turpin, who wrote The Lodgers and upcoming drama The Winter Lake, has two projects in development for Tailored Films. The Foundling is a surreal romantic melodrama, exploring a fractured family unit in a world where no 'animals' exist, and the role of domestic pets is played by human beings. It received development funding of €21,500.
Turpin is also developing Black Unicorn, set in a dystopian society where the bourgeoisie find their social values undermined by the emergence of a 'mutated' underclass who are developing 'parthenogenic' abilities (the ability for a single intersex parent to impregnate themselves). Screen Ireland has granted €14,600 in development funding.
Reynolds (The Farthest) will direct Patashnik from a screenplay by Gavin Burke. It centres on a lone astronaut in a race against time to deliver her cargo before her ship disintegrates. It was granted development funding of €21,300 for Samson Films.
Further projects being supported include the latest feature from Walsh, whose credits include Maudie. The Ballroom, which she will write and direct, received €42,500 for Parallel Film Production.
Quinn will write and direct Della & Jim for Janey Pictures, which was granted €23,900.
Rebecca Daly (Good Favour) will direct and co-write (with Glenn Montgomery) A High Place, which was allocated €31,900 for Cowtown Pictures.
Production funding
Among the features granted production funding are L.O.L.A., the feature directorial debut of award-winning shorts director Andrew Legge. Set in 1940's England, it tells the story of Thomasina, who invents a machine that can intercept broadcasts from the future. Cowtown Pictures hsd been granted €700,000.
Rachel Carey's black comedy Hair Raisers (previously known as Cutters), set in a hair salon in a working-class suburb, was granted €700,000 for O'Sullivan Productions.
Ink and Light is set to begin production on animated series Royals Next Door. The series is a Finland-Spain-Belgium-Ireland co-production with award-winning international production companies Pikkukala and Lunanime. The series is about a royal family who downsize and move into a regular suburban house. Production funding of €150,000 was granted by Screen Ireland.
Ink and Light is also producing animated series Stories From The Backwoods, which was allocated €300,000. The pre-school series follows a city raccoon trying to settle into her new home in Backwoods forest, with the help of over-enthusiastic local resident. The series is based on a Finnish book series Jänis ja Vanki and directed by Leevi Lemmetty (Harry and Bip). It will be co-produced by Muste ja Valo in Finland and Studio Soi in Germany.