Iconic comedian also calls UK press "a disgrace".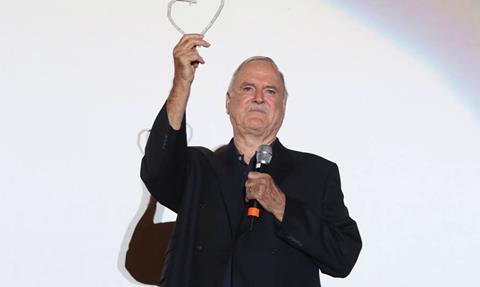 UK comedy legend John Cleese has reaffirmed his position in the Brexit debate, saying that while it will be five years before we know the full outcome, he thinks leaving the European Union is the correct decision.
"I don't want to be run by a bunch of European bureaucrats because they always look after themselves first," he commented to Screen.
The Monty Python and Fawlty Towers star admitted that "it will be five years before we know if it was a good thing or a bad thing, or if it will be a hard of soft exit", but added that he supported the possibility of the latter option.
Heart Of Sarajevo, 'Edith'
Cleese was speaking to Screen at the Sarajevo Film Festival, which he has been attending this week to accept the festival's top prize, the honorary Heart of Sarajevo.
The actor said he was humbled by the experience but that he doesn't regard himself as a major figure in film.
Cleese will next be seen in BBC series Edith alongside Alison Steadman, which recently wrapped its shoot.
Having previously claimed he would never work with the BBC again, the actor said that the quality of the script, written by Oscar-nominated screenwriter Charles McKeown, had changed his mind.
He added that while he "loved the people" involved, he had "hated the process" because it was "repetitive and boring", saying that he now preferred writing and is currently working on his second autobiography.
Comedy today
Cleese said he would also like to provide insight into how to effectively make comedy for young filmmakers.
"I've had the experience recently of working with young directors who don't seem to know how to shoot comedy. They shoot it as if it were drama, they use a lot of close-ups," he said.
"If you put two people on stage being funny, you don't have to cut to lots of close-ups," he continued, saying that the editor "shouldn't decide who you look at".
"The great problem with most of the comedy out there at the moment is that it's aimed at 19-year-olds who are astonishingly ignorant. Once you've done The Hangover you've made jokes about all the things they know about: drugs, liquor, celebrities, those narrow fields. They don't know anything about anything else," he concluded.
However, he was keen to emphasise the importance of comedy in 2017.
When receiving his Heart of Sarajevo, Cleese commented that "in world history, we have never needed comedians more".
Speaking to Screen, he added that comedy is "a wonderful way to get through difficult situations."
"It's a wonderful way of getting through life, even serious people regard humour as a mature defence, instead of all that paranoid rubbish that Donald Trump personifies so well," he added.
Press
Cleese was also highly critical of the UK press during the interview.
"I think the British press, almost without exception, is a disgrace. They don't do the basic job of a journalist which is to report the truth as accurately as they can. They're propaganda sheets," he commented.
"They've created a situation where people don't criticise them, except people like me on Twitter."