Native American series to premiere at Tribeca next week.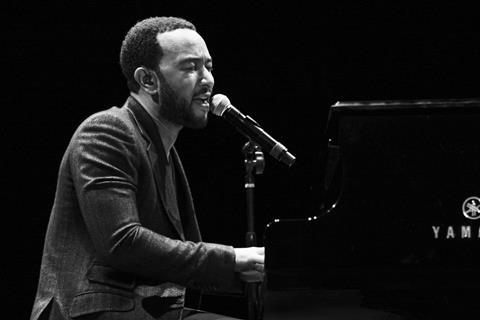 Ten-time Grammy winner John Legend will voice the lead in Rainbow Crow 9pictured below), Baobab Studios' VR follow-up to Invasion! and Asteroids!
Legend will also serve as executive producer on the story of how the crow sacrifices his multi-coloured plumage and becomes charcoal black in order to return light to the world.
The performer and his longtime partner and collaborator Ty Stiklorius are among the creative team on Rainbow Crow, whose first episode will premiere at Tribeca.
"Rainbow Crow brings storytelling and music together in a way no one else has yet in virtual reality," Legend said. "It's an incredible medium for inspiring a journey of self-discovery and finding your way in times to darkness.

"In light of what's going on in today's world, it's a message of deep meaning that people from all walks of life can embrace."
Kiowa-Caddo tribal elder Randy Edmonds, an 82-year-old lifelong crusader for Native American rights and founder of the National Urban Indian Council, narrates the series.
"All Native American tales have a tradition of deep meaning and that's why we tell the stories, sharing down the generations," Edmonds, who left Oklahoma in 1954 for Southern California as part of the Indian Relocation Act, said.

"When I look at the impact these legends have, the insights they represent, taking that storytelling to a modern medium is extremely exciting. The beautiful VR work being created – inspired by our folklore – is like nothing I've ever experienced in my many years."
"We all have experienced the emotions that John's music solicits," Baobab Studios CEO and co-founder Maureen Fan said. "He is an incredible innovator across all mediums, from song to film, and now to VR – both in front of and behind the camera.

"Rainbow Crow is a profound storytelling about perseverance, diversity and acceptance. Not only are the characters diverse, but so is our joint production team. Our shared values and ethos is another reason we're so excited to work with John and Ty."
Baobab Studios previously presented VR works Invasion! and Asteroids! in Tribeca and Cannes and featured voice work by Ethan Hawke and Elizabeth Banks.
Invasion! was nominated for an Emmy and has inspired a feature project set up at Roth Kirschenbaum Films.
Baobab co-founder and chief creative officer Eric Darnell directs Rainbow Crow and his credits include director on all four Madagascar films.
The launch date for Rainbow Crow's first full episode will be announced in due course.
Tribeca Film Festival runs from April 19-29.