The action director reveals details of new feature Manhunt, a long-awaited remake of The Killer and his thoughts on retirement.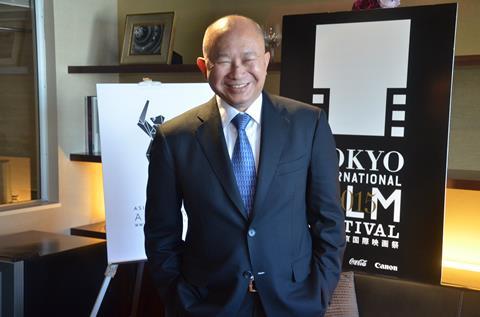 John Woo spent much of the '90s and early 2000s directing US hits like Broken Arrow, Face/Off and Mission: Impossible II, before going back to Chinese films with Red Cliff in 2008.
So would he ever consider a return to Hollywood?
"I have never left. I still enjoy working with Hollywood. I still have a couple of projects developing in Hollywood," the legendary Hong Kong action director told ScreenDaily at the Tokyo International Film Festival (Oct 22-31).
"So after Manhunt, I probably will go back to Hollywood to make another action thriller. I'm going to make The Killer in an American version."
There has long been talk of an English-language remake of The Killer, the 1989 Hong Kong assassin flick that raised Woo's profile globally as a director of hard-boiled action films and helped launch his move to Hollywood. At one stage Korean film-maker John H. Lee was slated to direct.
Woo said the Lee project was in development for some time, but was a completely different version of the story. It took time to finance and Lee eventually took on another project during the process,
Return to 'hard-boiled action'
Woo has strayed from his crime wheelhouse in recent years and into historical epics, such as his latest two-part film The Crossing, based on the sinking of a steamer that went down en route to Taiwan during the Chinese Revolution in 1949.
But Manhunt should recall the hard-boiled action of the director's earlier years. It will be the second adaptation of the Japanese novel Kimi Yo Fundo No Kawa No Watare by Juko Nishimura.
The 1976 film, directed by Jun'ya Sato, starred Ken Takakura as a prosecutor falsely accused of crimes who goes on the run to clear his name.
"It's a bit like going back to my own style. It's a criminal story, with love and guns – and maybe some pigeons," Woo said with a smile, alluding to a recurring symbol in his films.
Woo said Manhunt would be shot in Japan, with filming likely to begin in late winter. "I'm excited because I always wished to make a movie in Japan," he said.
"I really wish I can continue to make movies in different countries. This is my dream. It will let me learn more from different people, and cultures. Maybe after this one, the next one, it will be in England, Cambodia, India, whatever."
Retirement?
Woo was in Tokyo to receive the festival's Samurai Award, which commends the achievements of film-makers who continue to create groundbreaking films. Japan's Yoji Yamada was also a recipient of the award this year.
Despite more than 40 years in the director's chair, Woo shows no signs of slowing down.
"It's in my blood. I have never thought about retiring. As long as I can still walk, still think, I will continue to make movies."