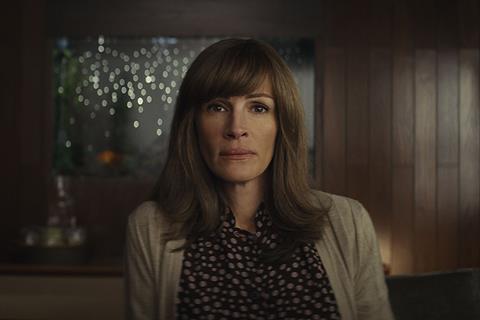 TIFF top brass on Thursday (August 16) unveiled the Primetime sidebar of TV selections including the first four hours of Amazon Studios' Julia Roberts psychological TV thriller Homecoming, while Taika Waititi makes his first visit to the festival as part of a diverse industry programme.
Homecoming, directed by Mr. Robot creator Sam Esmail, is based on the podcast by Eli Horowitz and Micah Bloomberg about the truth behind a military reintegration facility.
Primetime brings a very international flavour to its fourth annual selection this year. The roster includes Thomas Cailley's French sci-fi series Ad Vitam, about a rebellion against humanity's efforts to extinguish death and aging, as well as horror anthology Folklore: A Mother's Love & Pob from six Asian directors.
"First and foremost this is an event," said Primetime programmer Michael Lerman of the line-up. "We're doing extended Q&A's on all of these with key talent. It's a chance to see this on the big screen. It's an opportunity for audiences to dip their toes in and see what's being made and watched in other countries.
Noting how the various episodes on offer end in different ways tonally, Lerman added: "I like that the programme can be so diverse… It speaks to the fluidity of these [selections], which are essentially long-form story-telling."
PRIMETIME LINE-UP
Ad Vitam (France), two episodes
Dir. Thomas Cailley
International premiere
Folklore: A Mother's Love & Pob, (Indonesia-Thailand-Singapore), two episodes
Showrunner: Eric Khoo
Dirs: Joko Anwar, Pen-ek Ratanaruang
World premiere
Homecoming (USA), four episodes
Showrunners: Eli Horowitz, Micah Bloomberg
Dir: Sam Esmail
World premiere
Sorry For Your Loss (USA), four episodes
Showrunner: Lizzy Weiss
Creator: Kit Steinkellner
Dirs: James Ponsoldt, Jessica Yu, Allison Anders
World premiere
Stockholm (Israel), four episodes
Wr: Noa Yedlin
Dir: Daniel Syrkin
International premiere
TIFF INDUSTRY CONFERENCE
The six-day event will take place from September 7–12. TIFF Master Classes kicks off with an interview with Canadian screen icon Tantoo Cardinal, who has three films in the festival and will discuss her portraits of Indigenous characters in more than 120 films and TV programmes such as Dances With Wolves, Westworld, and Moccasin Flats.
The on-stage interview heralds the new Betty-Ann Heggie Speaker Series, a Share Her Journey initiative dedicated to bringing to light the challenges women face in the screen industry.
The sessions include Taika Waititi in his first visit to the festival in conversation with TIFF artistic director Cameron Bailey, and Chinese actor-director Jiang Wen, whose Hidden Man screens at the festival.
TIFF Moguls sessions includes Dr Stacy Smith, the academic who coined the phrase "inclusion rider" that kicked off a twitter storm when Frances McDormand referenced it in her Oscar acceptance speech. Smith will unveil her new research on equity in film criticism in an address, before taking part in a panel. Producer Nina Yang Bongiovi will also take part in a Moguls session.
Conference items include a panel on the impact of theatrical exhibition on today's culture moderated by National Association of Theatre Owners chief John Fithian; a peek behind the operation of GLAAD; and sessions on screenwriting, film soundtracks, and short-form content.
Foundations panels explore how to build a diverse crew, the work of production designers, and post-production. Werner Herzog and Sergei Loznitsa are among speakers at the TIFF Doc Conference.
"This is a pivotal moment in recognizing the unsung heroes in the industry," said TIFF industry director Kathleen Drumm. "Our conference programming will provide tools to address the imbalance of power, look to new trends, champion diversity, and identify how independent voices can be empowered and chart a sustainable career."
TIFF runs from September 6-16.