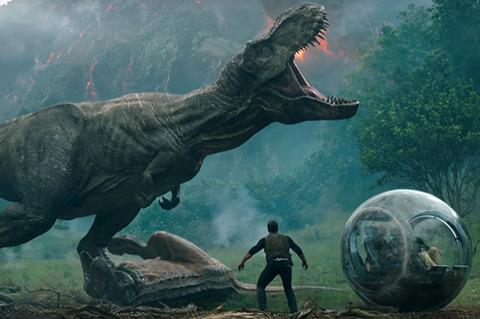 Today's GBP to USD conversion rate - 1.32
Universal
Jurassic World: Fallen Kingdom added £7.2m in its second weekend, a drop of 32%, to move it to £25.6m to date.
By comparison, previous franchise entry Jurassic World posted a £11.1m second weekend and sat at £38.5m after 11 days (Fallen Kingdom has been on release for 12 days), meaning the latest film is tracking quite far behind.
Entertainment Film Distributors
New releases were few and far between at the UK box office this weekend, with distributors keeping clear of the headline-dominating mania that comes with the opening of a football World Cup.
Sundance horror Hereditary, starring Toni Collette and Gabriel Byrne, was one of two new entrants in the top five, kicking off its UK run with £1.9m including previews. The film's Friday-Sunday total of £1.6m from its 525 screens gave it a decent site average of close to £3,000.
Looking at this year's previous horror releases, Paramount hit A Quiet Place debuted with £2m ( £2.7m including previews). The film had a significantly long tail and has grossed £12.1m to date. Sony's Insidious: The Last Key, the fourth film in the Insidious franchise, opened with £1.8m in January.
Disney
Solo: A Star Wars Story dropped just 17%, boosted by a lack of new titles on release. The film ranked third, garnering £969,628 for an £18m total gross to date.
Also aided by a lack of competition, Avengers: Infinity Wars was up 3% this weekend, adding a further £408,288 for £70.2m so far. The film needs another £2.4m to surpass Beauty And The Beast to become the ninth highest-grossing title in UK history.
20th Century Fox
In its fifth weekend, Deadpool 2 fell a slim 26% with £874,132 taking it past the £30m mark to a gross of £30.6m to date. The film looks unlikely to match the £38.1m posted by the original Deadpool.
Jay Chandrasekhar's comedy Super Troopers 2 opened with £101,557 from 306 cinemas for a site average of just £332. The original grossed £269,696 on its opening weeked in November 2002, also via Fox.
Yash Raj
Bollywood thriller Race 3, starring Salman Khan and Anil Kapoor, debuted at number five in the chart with an impressive £782,951 from 141 theatres. That's the second-highest Bollywood opening of the year behind Padmaavat, which kicked off with £851,252 in January.
Paramount
Book Club is up to £3.1m in the UK after adding £413,000 this weekend, while family animation Sherlock Gnomes added a further £403,000 to take it to £8m to date.
Entertainment One
Show Dogs added £226,480 for £2.8m to date.
Lionsgate
Rupert Everett's Oscar Wilde biopic The Happy Prince opened to an impressive £106,783 from 34 cinemas, a strong average of £3,140. The total includes previews of £8,364.
Documentary McQueen grossed £97,073 this weekend to earn £338,282 to date, while On Chesil Beach is now on £882,487 after adding a further £27,327 this weekend.
Dogwoof
Nightclub documentary Studio 54 grossed £ 20,577 from 20 sites, with one further cinema to report.
Curzon
L'Amant Double added £10,742 this weekend for £131,417 to date.
Altitude
My Friend Dahmer added £3,886 from 13 sites this weekend for a total cume of £87,980, while The Boy Downstairs took £936 from nine sites for a cume of £20,183.
Picturehouse
The Timothy Spall-starring comedy Stanley A Man Of Variety, which is having theatrical bookings handled by Picturehouse and opened exclusively in Picturehouse Central this weekend, grossed £438 from three showings. The film will now play across the chain in its Discover Tuesdays slot on June 26, and will later roll out to further venues.