The Doctor Who star tells Screen why she was forced to ditch the Tupperware Party title.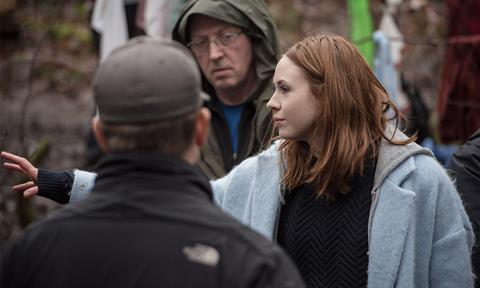 New cast details and a change in title have been announced for Karen Gillan's directing debut, backed by fledgling US production outfit Mt. Hollywood Films.
The film, which Gillan also wrote and stars in, was previously called Tupperware Party but has reverted to working title Untitled Original Drama.
Gillan explained to Screen why she was forced to change the name.
"The title is currently in limbo", she said. "Basically we had a title [Tupperware Party] and then realised that it was a brand name. That's actually the name of the company that makes those tubs, so currently we're deciding on a new title. I'm kind of digging the idea that we have to figure out a new title. I do believe that obstacles in creative situations often result in a better idea so I'm hoping that's the case here!"
Casting
It's also been announced that Gillan's Guardians Of The Galaxy co-star Lee Pace has joined the cast, which also includes Matthew Beard (An Education, The Imitation Game), Paul Higgins (Utopia, In The Loop), Siobhan Redmond (Alice Through The Looking Glass), and Kate Dickie (Prometheus, The Witch).
The plot sees Gillan play Lucy, who is dealing with the suicide of her best friend. She explained: "It's one year on and she's having real difficulty connecting with people and expressing herself so therefore all of her angst and all of her emotions towards the suicide are coming out in quite destructive ways."
Lee Pace plays Dale, an Englishman who travels up to Inverness on holiday and ends up involved in the story. Beard plays Matthew, Lucy's best friend.
Gillan is one week into the three-week shoot, which is taking place in Inverness and Glasgow.
"[The timescale] is incredibly ambitious but it's just about do-able," said Gillan. "We're all ambitious people and it's a challenge that we've all accepted… such an incredible, stimulating experience."
Making the film
Gillan said she started writing the script four years ago, mostly while shooting Guardians Of The Galaxy.
"I was having such a good time getting to play this villain then come home and I'd have 'post it' notes all over my wall about this other film I was trying to make. It was the most fun ever.
"Then I showed the script to a director I'd worked with before and he said 'I know the producer that needs to make this film with you', and that was Mali Elfman. She's one of my producing partners now [along with Tien Huei Grace Yeh and Claire Mundell of Synchronicity Films]. She loved the script and connected with it.
"She introduced the project to Mt. Hollywood, who were interested in working with female filmmakers and we have such a strong female team on this film, so it just came together."
The film is the first title in a five-picture slate for Mt. Hollywood Films. The company is aiming to produce mid-budget projects in the $10-40m range, while creating opportunities for women and minorities.
Mt. Hollywood Films president R. Andru Davies, chief executive officer Albert Gersten and chief financial officer Sloan Martin are executive producers on the project.
Future plans
Gillan said that she hopes to continue mixing directing projects with acting roles. She is set to appear in Guardians Of The Galaxy Vol. 2, The Circle and Jumanji in 2017.
"This is a huge ambition of mine to really continue with this [acting and directing]," she said. "My next project as a director will probably be one where I'm not in front of the camera and I'll get to concentrate on being behind the camera."
"[Starring in this film has] been really creative. It's nice to be in the fray with the other actors and instead of giving them notes, giving them performances to react off. But it means I haven't had enough time to obsess over the framing or what it looks like quite so much."
The film does not have a release date yet.