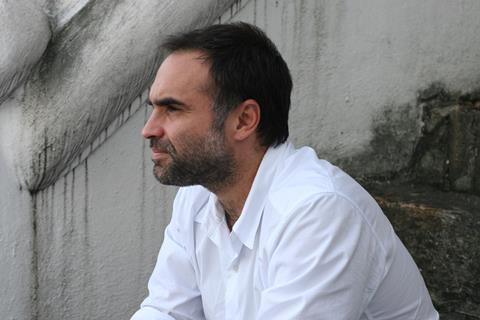 Karim Aïnouz has revealed fresh details of his upcoming Algerian revolution documentary Nardjes, Algiers, March 2019, a rough cut of which screens in the Final Cut in Venice post-production workshop on Sunday (Sept 1).
The work plunges viewers into the heart of street demonstrations that led to the resignation of Algeria's long-time, authoritarian president Abdelaziz Bouteflika in April through a day in the life of a young female activist whose family fought in the original Algerian revolution of 1954-1962.
The Brazilian, Berlin-based filmmaker recounts how he unexpectedly found himself caught up in Algeria's so-called Revolution of Smiles when he travelled to the country for the first time in February to shoot his long-gestating documentary Algerian By Accident.
His aim was to explore his own Algerian roots – via the Berber father he only connected with as a young adult – and explore the legacy of the country's fight for independence against French colonial rule, which was finally achieved in 1962.
"The plan was to make a very autobiographical film about going to this place – my second homeland – for the first time looking for the traces of the Algerian revolution. It was a simple essay, a sort of road movie in which I travel to my father's birthplace in Kabylie," he recounts.
"I took the 24-hour crossing from Marseille because I'd always wanted to arrive in Algeria by boat," he continues. "Literally a week after my arrival, on 22nd February, the demonstrations started."
Aïnouz says the demonstrations gave him hope at the time although he acknowledges it remains to be seen how the situation pans out as the interim, military-backed government drags its feet on scheduling free and fair elections.
"It had a double meaning for me: as Brazil is literally melting into something horrible with the government of [president Jair] Bolsonaro, I arrived in this country, which is supposed to be my second home, to something really beautiful, young people taking to the streets, marching on a Friday, fighting for democracy. It was almost like something out of a terrible, or great, screenplay."
Aïnouz attempted to shoot the second Friday of demonstrations with his Colombian-born, Berlin-based director of photography Juan Sarmiento G. but was told by security forces to stop filming. He was also warned via local contacts that if he persisted in his efforts to capture the demonstrations, the filming permits for Algerian By Accident would be revoked and he would be expelled.
Dangerous times
Alongside Sarmiento G. and producers Marie-Pierre Macia at Paris-based MPM Films and Richard Djoudi of Algiers-based Show Guest Entertainment, he turned to capturing the events on his smartphone. "I was sitting in my hotel, watching what was going on. It was breathtaking to see these people who kicked out French colonial rule back on the streets. I just wanted to jump into it no matter what," says Aïnouz.
Veteran producer Macia – who is producing Algerian By Accident alongside Walter Salles and Maria Carlota Bruno at Rio de Janeiro-based Videofilms – recalls how they all felt compelled to shoot what was going on. "It was a very dangerous time to film – police were arresting people in the early days," she says. "We didn't have a budget but just agreed over dinner one night that we'd do it at the same time as working on the original film."
Christopher Zitterbart of Berlin-based Watchmen Productions is also on board both films but was not in Algiers for the shoot.
Aïnouz frames the events via 24 hours in the life of Nardjès Asli, a young female activist and artist at the forefront of the fight for civilian democracy and better social conditions.
"We followed her from 8 am to 5 am the following day, as she demonstrated, hooked up with friends, went to a restaurant and then ended up at a club, not particularly because she is into clubbing but to release the tension of the previous 12 hours. It was a bit like being a war documentarist but it's a protest, not a war."
He admits that the work is still very much a work-in-progress and may end up being used as a storytelling device in Algerian By Accident. "It's very fluid at the moment and coming together," says the director, who is keen to hear feedback out of the rough-cut screening.
Coming to Venice
Aïnouz arrives on the Lido on Sunday in time for the rough-cut screening fresh from the Brazilian premiere of his Un Certain Regard winner The Invisible Life Of Euridice Gusmão. The melodrama about two sisters both living in 1950s Rio de Janeiro but cruelly separated by circumstances and lies was recently acquired by Amazon Studios for the US and is Brazil's Oscar entry this year.
Aside from supporting producers Macia and Djoudi as they seek partners and finance to complete Nardjes, Algiers, March 2019, Aïnouz is also in Venice as the president of the Giornate degli Autori's 28 Times Cinema. A joint initiative with the European Parliament's LUX Film Prize, the project welcomes 28 young film buffs from across the European Union for a programme of workshops linked to the line-up of the independent section (formerly known as Venice Days). The participants also award a prize to one of the films.
A total of six works in progress hailing from Africa and the Middle East are being showcased at the seventh edition of Final Cut In Venice, which takes place on Aug 31 and Sept 1 as part of the Venice Production Bridge industry programme.
Other rough-cuts screening on Sunday include UK-based, Iraqi filmmaker Maysoon Pachachi's drama Another Day In Baghdad and Ali Elarabi's documentary Captains Of Za'atari about two teenagers growing up in the refugee Za'atari refugee camp in Jordan