A dark animated take on The Little Mermaid and the urban legend of a teenage serial killer in 1960s Poland prove stand outs at KVIFF's Works in Progress event.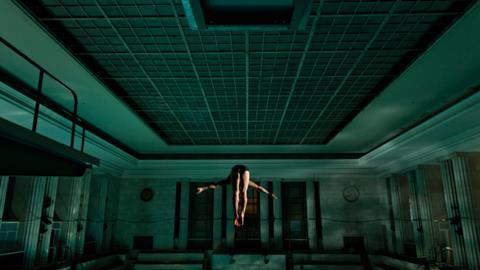 Scroll down for full list
Central and Eastern European filmmakers presented 14 projects at various stages of production at the Karlovy Vary International Film Festival's annual Works in Progress initiative.
The popular industry programme at KVIFF is in its tenth year, and past films shown as Works in Progress include Levan Koguashvili's Blind Dates, Yannis Veslemes's Norway and Darko Lungulov's Monument to Michael Jackson, all of which play at this year's festival.
This year's selection included a number of standout pitches to the assembled international sales agents, distributors, co-producers and festival programmers.
Red Spider is the story of a teenage serial killer in 1960s Communist Poland. It marks the feature debut of Marcin Koszalka, best known for directing HBO documentaries.
Budgeted at around €1.4m, the film is produced by Agnieszka Kurzydlo of Warsaw-based MD4. Kurzydlo is a former Zentropa International Poland exec and produced Berlinale award-winners Baby Blues and In the Name Of. The Czech Republic's Fog'n'Desire Films and Slovakia's Sokol Kollar recently came on board to co-produce.
Currently in post-production, with release set for 2015, script consultant Kinga Krzeminska said: "The film is inspired by the urban legend of a teenage serial killer who was committing crimes in 1960s Krakow. The look of the film is exotic and visually attractive."
Little From The Fish Shop is a modern take on Hans Christian Andersen's fairytale The Little Mermaid, told using stop-motion animation. The Czech-Slovakia-France co-production, with a budget of €1.7m, has been shooting for two years and is set for release in spring 2015.
Directed by Jan Balej, the film centres on Little, the daughter of the Sea King, who is forced to abandon the devastated waters with her family to live among humans. Chief animator is Michael Carrington and producer is Nelly Jencikova.
For the third year, a jury will award a prize to the best pitch, worth €10,000 in services from Barrandov Studios.
The jury comprises Mihai Chirilov, artistic director and co-founder of the Transylvania International Film Festival; Guillaume de Seille, who runs Paris-based Arizona Productions; and Niloufar Siassi, sales director at Fortissimo Films.
Karlvoy Vary Works in Progress 2014
8 Heads of Madness (8 hlav šílenství)
dir Marta Nováková, pro Julietta Sichel
Czech Republic
The film centres in Russian poet Anna Barkova, who spent 22 years of her life in Gulags. The feature, set for release mid-2015, includes animated inserts and pseudo-documentary footage.
The Adventures of a Dutiful Daughter (Aventurile unei fete cuminti)
dir/pro Ana Lungu, pro Anca Puiu
Romania
This coming-of-age story follows 30-year-old Cristiana, whose parents move into a new house, leaving her on her own – so she decides to get a dog.
Blind Love
dir Aleksander Kott, pro Katia Filippova
Russia
Incorporating drama, romance and tragicomedy, this film is about a young man who loses his sight in an accident and finds new meaning in life through a woman he meets in hospital.
Essay (Essai)
dir/pro Adil Mussatayev, pro Olga Khlasheva
Kazakhstan
Set for release this December, the film is about a young man who does not want to join the modern pace of life and spends his time with friends, smoking marijuana.
The General
dir Bakur Bakuradze, pros Julia Mishkinene, Sergei Selianov, Miroslav Mogorovic, Zaur Bolotaev, Alexandr Plotnikov
Russia, Serbia
The film centres a man in his 60s and explores the personal and psychological consequences of war.
Goat (Koza)
dir Ivan Ostrochovský, pros Jiří Konečný, Ivan Ostrochovský, Marek Urban
Slovak Republic, Czech Republic
Inspired by the life of Romany boxer Peter Baláž, who fought at the Atlanta Olympics in 1996 and stars in the film, the fighter must get back into the ring one more time to pay for his girlfriend's abortion.
The Gulls (Chaiki)
dir Ella Manzheeva, pros Elena Glikman, Yaroslav Zhivov
Russia (Kalmykia)
This is a story about a fisherman's wife, loneliness and love. It is set for release in March 2015 and has a budget of €870,000.
Ivy (Sarmaşık)
dir Tolga Karaçelik, pro Bilge Elif Turhan
Turkey
Six workers are ordered to remain on a ship whose owner has gone bust. But as time rolls on and supplies run out, the men begin to turn on each other. Release is set for Dec 15 2014.
Journey to Rome (Cesta do Říma)
dir Tomasz Mielnik
Czech Republic, Poland
This quirky comedy, with a budget of €530,000, begins when a man steals a painting and flees by train, hunted by antique shop owners and police.
Little from the Fish Shop (Malá z rybárny)
dir Jan Balej, pro Daniela Nelly Jencikova
Czech Republic, Slovak Republic, France
A dark approach to The Little Mermaid story, the film uses stop-motion animation to tell the tale of Little, daughter of the Sea King. Little and her family have to abandon the plundered waters of their home to live among humans and run a fish shop. The film, which has a €1.7m budget, is set for release in Spring 2015.
Red Spider (Czerwony Pająk)
dir Marcin Koszałka
Poland
Set in 1960s communist-era Poland, the film is inspired by stories of a teenage serial killer of the period.
Sleeping Lessons (Dzilis Gakvetilebi)
dir Rusudan Pirveli, pro Rusudan Pirveli
Georgia
A young man helps rob a woman with a friend only to meet her again by accident. He opens up about the incident to an older woman, with whom he begins a relationship. But his life on the street comes back to haunt him.
Symptom (Symptoma)
dir Angelos Frantzis, pro Angelos Frantzis
Greece
This fantasy drama takes place in winter when a strange creature appears on an isolated island. Whoever comes in contact with him loses his mind. A strange girl seems to be the only one to have the power to confront the creature but as it begins to behave more like a human, the girl ends up acting more outrageously.
Us2 (My2)
dir Slobodanka Radun, pro Vratislav Slajer
Czech Republic
This love story is about a girl who runs away from home and hides at the apartment of her gay hairdresser, where both attempt to escape the constraints of their own desires.