The Filmmakers behind Saving Mes Aynak have announced a global screening day to spread awareness about a 5,000-year-old Buddhist archaeological site in Afghanistan on the brink of destruction.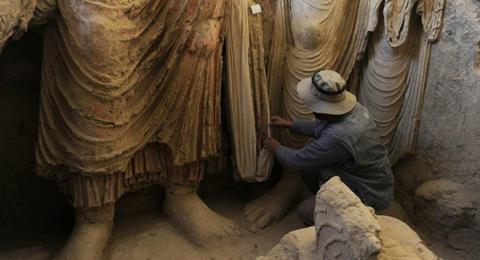 Saving Mes Aynak premiered at the International Documentary Film Festival Amsterdam last November and follows archaeologist Qadir Temori and his fight to save the Mes Aynak site.
The filmmakers say the location in Taliban-controlled Logar Province is under threat from a Chinese state-owned mining company interested in the approximately $100bn dollars worth of copper below the land.
The archaeologists believe that only 10% of the site has been excavated.
The documentary's director Brent E Huffman and documentary collective Kartemquin Films have announced that July 1 will be Global #SaveMesAynak Day, in which the film will be available globally via VHX.
The film will be broadcast on stations including Al Jazeera and Al Jazeera English and will be available for screening at educational institutions and community venues.
The filmmakers plan to launch a campaign with Indiegogo to place international pressure on China Metallurgical Group Corporation the Afghan government and UNESCO.
The first $50,000 raised, which amounts to 10% of the campaign target, will go directly to the preservation of the site. If the goal is exceeded, the filmmakers will double the direct donation to 20%.
The film's supporters have created a petition at Change.org asking Afghan president Mohammad Ashraf Ghani to spare the site.
"The more that people are able to see the film, and the more who sign the Change.org petition asking Afghanistan President Ashraf Ghani to request UNESCO make Mes Aynak a world heritage site, the greater the chances that Mes Aynak and its invaluable history can be saved," said Huffman.
"That would be a victory for Buddhists, Afghanistan heritage, and anyone who cares about world history."