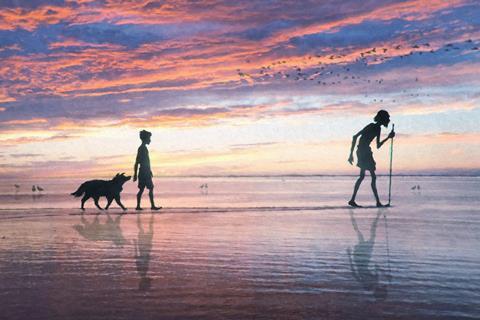 Animated features Kensuke's Kingdom, an adaptation of a Michael Morpurgo novel directed by Neil Boyle and Kirk Hendry.and sold by Bankside, and Tim Harper's Ozi - Voice Of The Forest, about an orphan orangutang, that is produced by Leonardo DiCaprio's Appian Way and sold by GFM, are among the high-profile projects that will screen to distributors at this year's London Screenings.
The three-day event will take place at Picturehouse Central in Piccadilly Circus from June 19 - 21 2023,
UK and international sales companies will be unveiling new titles at the annual industry screenings showcase which will be attended by around 100-120 distributors and festival programmers.
GFM ispresenting another new animated feature, Enzo d'Alo's A Greyhound Of A Girl, based on the book by Roddy Doyle and with Brendan Gleeson and Sharon Horgan among the voice cast.
Vienna-based documentary specialist Autlook will be in town with Richard Blanshard and Roger Penny's Cannes Uncut, about the Cannes Film Festival, which is receiving its world premiere this week at the Sydney Film Festival.
Meanwhile, Helsinki-based The Yellow Affair is screening Janis Pugh's UK comedy Chuck Chuck Baby, about love, loss and music set in a chicken farm in north Wales, and Protagonist has Marc Turtletaub's UFO comedy Jules starring Ben Kingsley.
France's WTFIlms is presenting survival thriller Cold Meat, the feature debut of French filmmaker Sebastien Drouin, starring Allen Leech, HanWay Films is screening Leo Leigh's Filmfest Munchen premiere Sweet Sue, a comedy drama that has been acquired for the UK and Ireland by Curzon, and Metro International has Joachim Heden's shark thriller The Last Breath.
Signature Entertainment will showcase Mitch Jenkin's sci-fi thriller A Million Days to buyers, while Together Films' nascent sales arm is participating with In Camera.
Titles to have screened at international festivals being showcased to buyers include Carol Morley's road movie Typist Artist Pirate King (Metro International) and Dionne Edwards' London Film Festival premiere Pretty Red Dress (Protagonist).
The Breakthrough strand will showcase six new titles in search of sales agent representation and festival exposure. They are: Bernie and Samantha Spiers' Black Cab, Michael Groom's Between the Light, Hope Dickson Leach's The Strange Case of Dr Jekyll & Mr Hyde, David Luke Ree's Look the Other Way And Run, and Alexander Milo Bischof's Tyger, which stars Laura Haddock, Shaun Dooley and Ben Aldridge.
For a second year, London Screenings is collaborating with Doc Society. Under the aegis of foundation director Sandra Whipham and her team, Doc Society will showcase its new documentaries, some of which will be fresh from their Sheffield Doc Fest premieres.
Mia Bays, director of the BFI Film Fund, will host a 'Coming Soon' presentation of new BFI-backed titles.
The London Screenings was launched in 2004 and has run every year since then, apart from a Covid hiatus in 2020 and 2021.
Helena Mackenzie, head of inward investment and business development at Film London, is predicting a "European-heavy" contingent of buyers. "The US buyers that come are often those that have a UK office," she said. She is promising an event that will be "wall- to -wall screenings", with networking drinks to open and close.