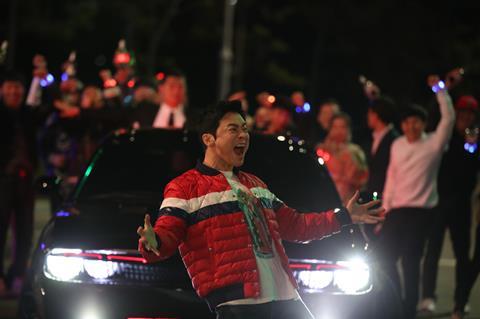 South Korea's Showbox has sold crime action film Hit-And-Run Squad to a raft of territories led by Australia and New Zealand (JBG Pictures).
The other territories are Japan (New Select), US and Canada (815 Pictures), Hong Kong (Megaton), Taiwan (Movie Cloud), the Philippines (Viva Communications), Singapore (Shaw Renters), Cambodia, Laos, Myanmar and Vietnam (Westec Media), and Malaysia, Brunei, Indonesia and Thailand (CJ E&M HK). The film also sold worldwide in-flight rights excluding Korea (Emphasis).
From director Han Jun-hee (Coin Locker Girl), the film stars Kong Hyo-jin (Door Lock), Ryu Jun-yeol (A Taxi Driver) and Cho Jung-seok (The Drug King). A rookie police officer (Ryu) with a talent for fast driving and an unjustly demoted top detective (Kong) find themselves in the Hit-and-Run Squad where they team up to arrest a rich and powerful speed demon suspected of multiple crimes.
The film topped the Korean box-office charts upon release on January 30, clockingup 1.3 million admissions and $9.6m in its first week, according to the Korean Film Council (KOFIC).