The 15th edition of the Turkish indie festival gave prizes to two films that depict Kurdish issues.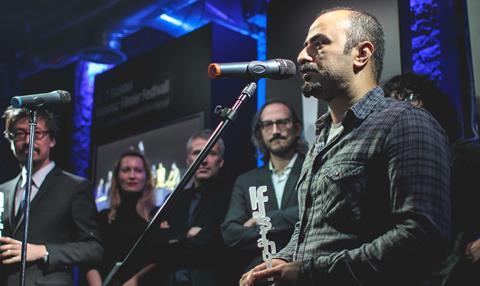 The winners of the 15th !f Istanbul Independent Film Festival (Feb 18-28) have been revealed, with two Kurdish-focused films receiving accolades.
The festival's main competition, the !f Inspired award (which recognises the 'most inspired director of the year' and is open to directors on their first or second feature) was presented to Turkish director Ali Kemal Çınar [pictured top] for his Kurdish-language feature Hidden [pictured right, top]
Cinar's film, which depicts a man going through a sex change and also looks at issues including the roles of women in traditional Kurdish and Turkish societies, is the first from Turkey to ever win the prize, which it jointly shared with Bi Gan's Chinese feature Kaili Blues [pictured right, middle], about a man who embarks on a journey to look for his brother's abandoned child. The two films will split a prize of $10,000.
The !f Inspired jury was comprised of actor and film-maker Desiree Akhavan; MoMA curator Joshua Siegel; actress and editor Dounia Sichov, actor and screenwriter Mert Firat; and Cinema Scope magazine editor Mark Peranson.
Hidden also received the SIYAD choice prize, awarded by the Film Critics Association of Turkey to the best film at the festival.
The festival's Love & Change competition, which recognises the best in activist documentary and art cinema, also highlighted Kurdish subject matter, with Berke Bas and Melis Birder's documentary Baglar, following the fate of a basketball team in the Kurdish city of Diyarbakir, awarded a special mention by the jury for being "a powerful display of the harsh and destructive aspects" of politics in the region.
The competition's main winner was Pietro Marcello's blend of fiction, poetry and documentary, Lost And Beautiful [pictured right, bottom], which follows a young servant who, to fulfil a friend's dying wish, saves a buffalo from being killed, embarking on a journey across Italy with the animal. The film also received a $10,000 prize.
The Love & Change jury was comprised of Adam Curtis, (whose film Bitter Lake screened at the festival), art critic Şener Özmen and documentary producer Philippa Kowarsky.
Speaking to Screen, the festival's organisers said that highlighting Kurdish cinema was positive for the country as a whole.