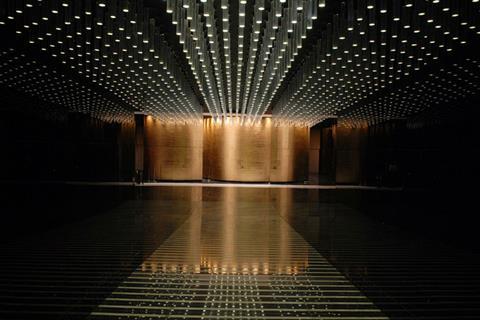 Kuwait National Cinema Company (KNCC) and Dubai-based Front Row Filmed Entertainment have announced a joint move into Saudi Arabia's nascent exhibition and distribution scene following the lifting of the country's 30-year ban on cinema.
The joint-ventured partners, who have long cooperated on acquisitions and distribution in the Gulf region, said their exhibition operation Cinescape Cinemas was in final negotiations to launch a first phase of 27 screens across three multiplexes in Saudi Arabia's key cities of Riyadh, Jeddah and Damman.
The companies added that alongside finalising these negotiations, KNCC was also in advanced discussions with "high-profile real estate entries" to secure additional multiplexes as well as standalone cinemas across the country.
KNCC's holding company the Tamdeen Group already has a strong track-record in developing and operating big real estate projects in other Gulf territories, including the two biggest shopping malls in Kuwait.
The push into Saudi Arabia made perfect sense, said KNCC general manager Hisham Al Ghanim, given the strong cultural and historical links between Kuwait and its neighbour as well as the fact that the company already had experience of working with Saudi cinema-goers
"There is a high influx of Saudi audiences that flock to Kuwait to experience the cinema here because of the films we are able to show and the high standards of the sites themselves, so we have a keen understanding and appreciation of their tastes and habits," he explained.
"This has been long in the making as we have travelled to and from the kingdom to explore the development of cinema. We expect to open a total of 12 multiplexes in the next 36-month period," he added.
Founded in 1954, KNCC was the first entertainment company to be launched in the Gulf region. It is the largest exhibitor in Kuwait with a 91% market share.
Front Row Filmed Entertainment chief Gianluca Chakra said the wide-ranging slate his company had built with KNCC would play a significant role in the push into Saudi Arabia.
"Front Row's outside-the-box exhibition and distribution model can only help enhance the Saudi expansion," he said. "Added to that the strong Egyptian catalogue and the burgeoning market of original content development we are closely working on together and you will find that there is substantial potential for growth in the KSA."
Saudi Arabia's cultural ministry announced last December that the country planned to open 300 cinemas with 2,000 screens by 2030, which would make a projected $24bn (90 billion riyals) contribution to the economy and create 30,000 permanent jobs in that period.
Exhibition groups from around the world have since been queuing up to enter the new exhibition sector
The KNCC and Front announcement follows news earlier this week that the UK's Vue International has struck a deal with the Abdulmohsin Al Hokair Holding Group to build 30 cinemas over the next three years.