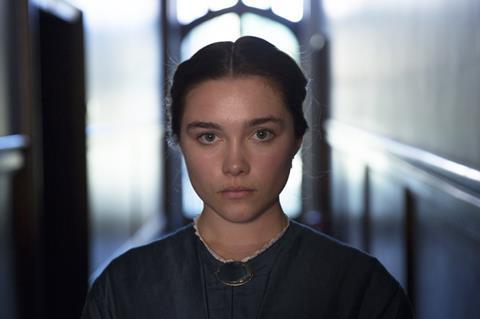 Creative England's flagship low-budget film initiative iFeatures is re-launching this year to become a year-round development lab with a more flexible approach to funding and regionality.
The BFI, BBC Films and Creative Skillset-backed scheme previously selected an initial 12 projects for development and then took three into production with budgets of £350,000. Recent success stories including William Oldroyd's Lady Macbeth, Hope Dickson Leach's The Levelling and Dan Kokotajilo's Apostasy.
In its new iteration, which opens on Feb 21 for applications, 12 projects from first-time filmmakers will be taken through an entire cycle of development that will include support for all aspects of the creative process, from inception to the stage when they are ready to be introduced to the market.
The BFI and BBC Films have committed to producing at least three of the projects, but the goal is for more than that to be greenlit under the new guise. Creative England is currently analysing various sources of funding that could be harnessed.
Previously, applications were only accepted from regions of England outside of London, but now the pool is being opened up to accept projects from the whole UK, including Scotland and Northern Ireland.
The scheme will also adhere to the BFI's diversity targets, which will be in place for all BFI-funded activity from April 2018.
Paul Ashton, head of film at Creative England said: "iFeatures has proven itself absolutely critical to filmmaking talent in the UK. The projects coming out of iFeatures are not just good low-budget films; they are amongst the best independent British films being made by anyone. Talent and opportunity are the beating heart of Creative England and iFeatures - and the refreshed programme will realise even more talent and opportunity for the future."
Ben Roberts, director of the BFI Film Fund, added: "Together we are building on the energy and insight gained from a standout year for British debuts. The changes to iFeatures will mean a focus on wider access to the programme, and first-class editorial and industry support to all the participating teams throughout. We think this can generate a truly exciting variety of timely stories and investable voices"
Eva Yates, commissioning executive for BBC Films, added: "At BBC Films we are delighted to be continuing our partnership with the BFI and Creative England on iFeatures, redesigned as a world-class development lab which will increase the range, ambition and opportunity for new voices and low budget filmmaking in the U.K. iFeatures plays an essential role in BBC Films' increased commitment to supporting bold debut films and the most exciting filmmakers of the future."
Lisa Howe, Film Manager, Creative Skillset, said: "We are pleased to be supporting the refreshed iFeatures5 Lab. It provides a fantastic opportunity and spotlight for a distinct range of diverse UK voices on the cusp of breaking through with their first or second feature. Realising the potential of our home grown talent, from the widest possible range of backgrounds, through professional up-skilling and training is critical to ensuring the UK film industry continues to be a world-leader."