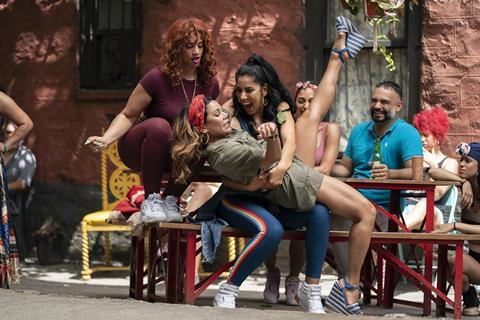 Los Angeles Latino International Film Festival (LALIFF) will host a preview screening of Warner Bros' upcoming In The Heights on June 4, and is partnering with Tribeca to celebrate the festivals' 20th anniversaries.
Jon M. Chu directed Lin-Manuel Miranda's hit Broadway musical, which is set to open in cinemas via Warner Bros and debut on HBO Max on June 11.
The preview screening will be in-person and the film centres on the vibrant Washington Heights community in Manhattan and bodega owner Usnavi who dreams of a better life.
Anthony Ramos, Corey Hawkins, Leslie Grace, Melissa Barrera, Olga Merediz, Daphne Rubin-Vega, Gregory Diaz IV, Stephanie Beatriz, Dascha Polanco, singer Marc Anthony, and Jimmy Smits star.
"We cannot wait to share this incredible film with our audience as part of this year's festival," said Olmos. "In The Heights celebrates the Latino culture and allows us to continue to support our mission of providing a platform of stories that are told by us and for us. We are equally excited to partner with such a renowned film festival like Tribeca and we know that this will be a partnership that will flourish over the years."
"Congratulations to LALIFF on their 20th anniversary of extraordinary storytelling for Latino filmmakers, artists and visionaries everywhere," said Tribeca Festival co-founder Robert De Niro. "We celebrate this incredible partnership with a shared goal, to beautifully showcase diverse and under-represented voices through the power of film."
The LALIFF full programme will be announced in early May.