Stephen Garrett and Frank Spotnitz say UK industry faces mounting economic pressures.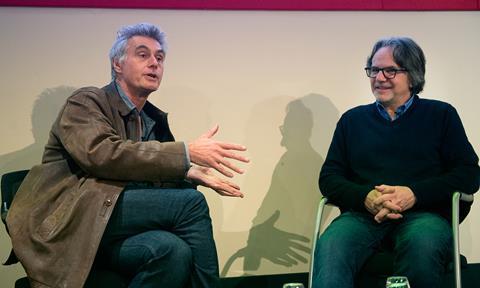 Frank Spotnitz, creator of The Man In The High Castle, and Stephen Garrett, producer of The Night Manager, have warned that British television faces losing its cultural identity as productions increasingly rely on international financing.
Speaking at the British Screen Advisory Council conference in London on Wednesday, May 3, Spotnitz claimed that "there is a growing commercial pressure on British television".
Garrett agreed, drawing comparisons between his recent projects, such as the Tom Hiddleston-starring The Night Manager, and his previous work.
"Spooks was roughly £800,000 an hour, which is now ridiculous," said Garrett, "BBC One paid 95% of that budget and the remaining was a distribution advance from BBC Worldwide."
"Cut to present day where you're routinely making shows for closer to £2-3m an hour and beyond, you have British broadcasters only putting up a third of the budget. You're now utterly dependent on at least one other broadcaster being a major participant," he continued, using the example of US network AMC's involvement in The Night Manager.
"That forces us to come up with very different stories, the cultural specificity of shows such as Happy Valley are increasingly hard to support because they're of zero interest to international partners. There's an anxiety about what has happened to public service storytelling." he added.
Spotnitz, who has been based in London with his company Big Light Productions for seven years following a career in the US where he was a writer and show runner on The X-Files, added to Garrett's assessment: "The economic pressures are going to make it harder and harder to do shows that are just aimed at British audiences, which is a shame because this is one of the great television cultures in the world."
Opportunities
However, both producers agreed that there are still plenty of opportunities out there for British TV workers.
"The good news is that because the storytelling culture here is so incredibly strong, British producers and talent are well positioned to take advantage of the explosion in international TV production," said Spotnitz, "But it will inevitably lead to a shift in the kind of stories that get told."
Referring to SVoD giants including Netflix and Amazon, Garrett said that the budgets of those companies provide big opportunities for British producers: "The pro is that it is one-stop shopping, the support that these global streaming services can provide is extraordinary. These shows are widely watched, in the conversation, winning prizes."
Garrett also warned that these were downsides to doing deals with online companies: "The con is that if you're trying to build a business there's no back end. Also, they have all this data but they don't tell you anything, they don't share it."
"But it is irresistible," said Spotnitz, "They're going to write you a cheque that nobody else will write you. They want to make noise and stand out in the marketplace. The Man In The High Castle [funded by Amazon] was the most money I ever had in my career."
"Even five years ago, when casting shows I'd get five pages of names, now I get one or two pages," he continued, "Many people are working in scripted shows – we actually need more talent in the business to support the drama that's being made."