The Lebanese release of killer doll prequel Annabelle: Creation has been put on hold following objections to religious elements in the film by the country's censorship committee.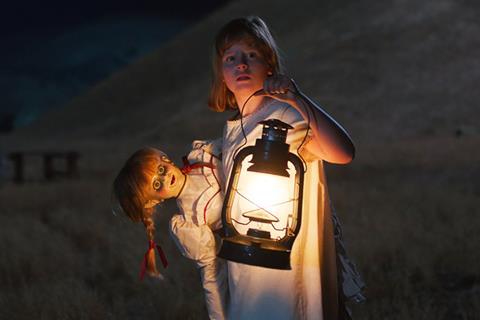 According to local sources, two priests on the multi-faith, cross-party body ruled that the film could be offensive to people of Christian faith.
Annabelle: Creation is the second Warner Bros. title to have come-up against Lebanese censors in less than two months.
The US studio's early summer hit Wonder Woman was banned in Lebanon in June on the basis that its star Gal Gadot hails from Israel, a country which is officially at war with Lebanon.
Annabelle: Creation was to have been hit 17 cinemas in Lebanon on August 17 but these plans are now on hold while local distributor Joseph Chacra & Sons, the Warner Bros. licensee in Lebanon, attempts to broker a compromise.
A company representative said the company had proposed cuts to the film and was now awaiting the decision of Lebanon's Interior Minister Nohad Machnouk, who has the ultimate say in censorship cases.
"Some media outlets have reported it is banned but there is more to the story than that. It's not banned yet. It's on hold," he said.
"The film has been transferred to the Ministry of Interior for approval because the censorship committee was mixed on what to do with the movie. It looks like we will be able to release it subject to certain cuts if all the parties agree on it."
The process could take a number of weeks.
"As soon as we have the OK from the Ministry of Interior we will screen the film to the committee again to note the exact scenes and then we will have to go Warner Bros. for their approval and that of the makers."
"With government bureaucracy and everything it could take a few weeks to get an answer. We might get lucky and get an answer this week but worse-case scenario is a few weeks from now."
Under Lebanon's film certificate and censorship rules, films due to be released in the country are first vetted and given a rating by Lebanon's general security body, the country's equivalent to Homeland Security in the US.
If the film contains elements that could be politically or religiously sensitive the title is then passed on to the Ministry of Interior's censorship committee for deeper consideration.
The Joseph Chacra & Sons representative said there was a sense in the local distribution and exhibition sector that both committees had become more reactive since the Wonder Woman ban.
"We weren't expecting any type of opposition to this film. A thousand horror movies have been released in Lebanon, including the first Annabelle and Conjuring 1 and 2," he said.
"Since Wonder Woman the censorship committees have got more meticulous. Things have become more difficult for all distributors in general."
Local Reaction
The censorship woes of Annabelle: Creation have been greeted with dismay and anger by local genre fans and film industry figures alike.
"Please don't cut any scene from the movie!!! We don't want the movie censored," wrote one fan on the Joseph Chacra & Sons Facebook page.
Bassam J. Eid, manager of the Prime/Empire Cinema chain in Lebanon, commented that the ban was encouraging piracy.
"These censorship barriers are encouraging people to go buy pirated DVDs and help the illegal sale of movies and leaving theatres empty since moviegoers cannot find the movies they want to see," he commented on his Facebook page.
Another industry professional suggested general security and the censorship committee should refund Joseph Chacra & Sons for their lost P & A costs and the cinemas for their loss of revenue.
Annabelle: Creation continues international roll-out
In the backdrop, Annabelle: Creation is doing well internationally, grossing $96.7m in 56 territories by August 21.
Joseph Chacra & Sons's sister company, the pan-Arab distributor Shooting Stars is also reporting brisk business for the film in its Middle East territories.
"It was the biggest horror movie opening in history in the UAE and its done well all over the region," said the company representative. "We're hoping for the same thing in Lebanon once we can get it out."