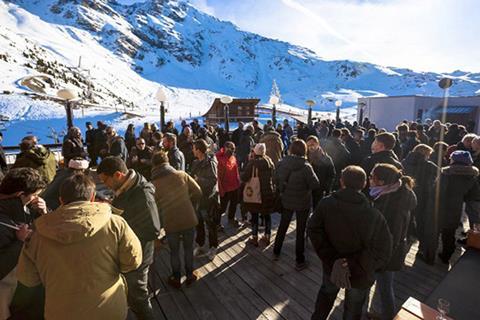 The 12th edition of France's Les Arcs Film Festival is moving its industry component to January 2021 but keeping the festival itself in December.
Les Arcs Industry Village will run as a hybrid online-physical event and will be based in Paris. The programme, which is headlined by the Co-production Village and Works-in-Progress events, will take place physically in Paris, from January 17-18, and online from January 20-21.
The festival component will retain its previously announced dates of December 12-19. It is expected to go ahead mainly online, with small physical events in its traditional backdrop of the Les Arcs skiing region in the French Alps, depending on the Covid-19 situation and related restrictions at the time.
Full details for the festival will be announced on November 19.
Hot projects
The 18 European projects at development stage that will participate in the hybrid Co-production Village in January comprise 12 first features, four second features and six projects by more established filmmakers.
They include Brazilian director Paulo Miranda Maria's Amazon-set revenge thriller Bandiera. It will be his second feature after the Memory House, which was selected for the Cannes 2020 label and went on to world premiere at Toronto and compete in San Sebastian.
Other selections include Le Plus Vivant Possible, the debut feature of Belgian director Delphine Girard, whose short film A Sister was Oscar-nominated in the 2020 edition of the awards.
Girard, who took second assistant director credits on Souvenir and After Love, is among five women filmmakers with projects in the selection.
Further hot projects include Swedish director Mans Mansson's contemporary adaptation of Graham Greene's 1935 Stockholm-set novel England Made Me. It will be his fourth feature after The Real Estate (co-directed with Axel Petersen), Stranded In Canton and Roland Hassel.
The selection for the Works-in-Progress showcase, scheduled to run in Paris on January 17, will be announced at the beginning of 2021.
In other events, eight directors have been selected for the Les Arcs Talent Village. The comprise Pascal Reinmann (Switzerland). Aurélie Reinhorn (France), Dorian Jespers (Belgium), Sabine Ehrl (Germany), Chloé Léonil (France), Alba Pino (Spain), Aline Magrez (Belgium) and Ozgür Anil (Austria).
They will be invited to attend the coproduction market after having participated in a preparatory workshop.
The full-list of Co-production Village projects:
Bandeira (Brazil-France)
Dir. Joao Paulo Miranda Maria
Prod. Les Valseurs
Chain Reaction (Hungary)
Dir. Attila Hartung
Prod. Filmteam Kft.
England Made Me (Sweden)
Dir. Måns Månsson
Prod. Fasad Production Ab
The Fire This Time (France)
Dir. Mehdi Fikri
Prod Topshot Films
Flow (Latvia)
Dir. Gints Zilbalodis
Prod. Dream Well Studio
Hypnosis (Sweden)
Dir. Ernst De Geer
Prod. Garagefilm International Ab
The Last One Turns Off The Light (Czech Republic)
Dir. Michal Hogenauer
Prod. Xova Film
Le Plus Vivant Possible (Belgium)
Dir. Delphine Girard
Prod. Versus Production
Ma Vie Avec Violeta (France, Luxembourg)
Dir. Lucía Cedrón
Prod. Tu Vas Voir, Iris Productions
O Jacare (Switzerland)
Dir. Basil Da Cunha
Prod. Akka Films
Our Wildest Days ((Greece-France)
Dir. Vasilis Kekatos
Prod. Blackbird Production, Tripode Productions
Red Dust (Senegal-Luxembourg)
Dir. Moussa Toure
Prod. A_Bahn
The Remains Of You (Spain)
Dir. Gala Gracia
Prod. Potenza Producciones
The Rock (Poland)
Dir. Olga Chajdas
Prod. Film Produkcja
Sheba (France)
Dirs. Alexis Ducord, Benjamin Massoubre
Prod. Maybe Movies
So, Perfect (Ireland)
Dir. Nathalie Biancheri
Prod. Feline Films
Those Who Fight (Switzerland)
Dir. Antoine Russbach
Prod. Box Productions
Time Of The Monsters (Germany)
Dir. Florian Hoffmann
Prod. Chromosom Film Gmbh