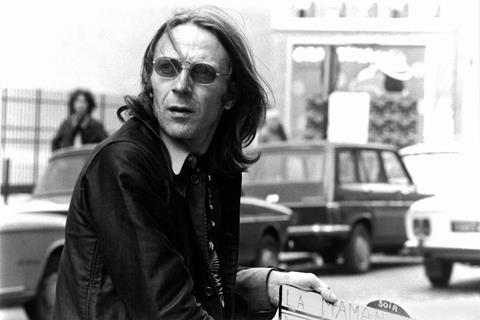 French film company Les Films du Losange has acquired the entire catalogue of influential post-New Wave director Jean Eustache, comprising five feature-length works and six short films.
The deal with the late filmmaker's son Boris Eustache is a coup for Les Films du Losange's new co-heads Charles Gillibert and Alexis Dantec who recently took over the company, which was established in 1962 by New Wave directors Eric Rohmer and Barbet Schroeder.
It brings an end to a dispute blocking the exploitation of the filmography for several decades, which prompted The New Yorker magazine to write in 2013, "Jean Eustache's entire oeuvre is in crucial need of release."
"A lot of contemporary filmmakers cite Eustache as an influence and his work enjoys a cult among his cinephiles but it was actually very hard to see his films," commented Les Films du Losange president Gillibert.
Eustache belonged to a generation of filmmakers who followed immediately in the wake of the New Wave, as a direct successor of Jean-Luc Godard, François Truffaut, Jacques Rivette and Rohmer.
In spite of his relatively small filmography, he has been cited as an important influence by directors including Oliver Assayas and Jim Jarmusch, who included a dedication to The Mother And The Whore in his 2005 work Broken Flowers.
Gillibert says the first priority is to undertake 4K digital restorations of Eustache's films, some of which are in poor condition, and also shine a spotlight on the filmmaker's legacy, which has rarely been feted in recent years due to the difficulty around getting hold of copies of his work.
"We're going to do a big restoration work as well as a wide-ranging editorial project bringing in journalists and filmmakers to talk about his work and a large-scale international event around The Mother And The Whore, which will be the first work to be restored, ahead of a bigger retrospective encompassing all of his work," explained Gillibert
Love-triangle drama The Mother And The Whore is Eustache's best-known film internationally. It stars Jean-Pierre Léaud, Bernadette Lafont and Françoise Lebrun (recently seen in Gaspar Noé's Vortex) and won the jury grand prize at the 1973 Cannes Film Festival.
Like many of his works, it blurred the lines between fact and fiction. The screenplay was inspired by his own torrid love life oscillating between Lebrun, Marinka Matuszewski and ex-girlfriend Catherine Garnier, who collaborated on the film and then killed herself a few days after its triumph at Cannes.
Eustache would also take his own life in Paris in 1981 at the age of 42.
"There are other works like Les Photos D'Alix [in which Canadian photographer Alix Cléo Blanchette talks to Eustache's son Boris about her work] which is seen as important for visual artists," said Gillibert. "He is the inventor of extraordinary shapes, whose ideas widely influenced a whole segment of film and contemporary art."
Other titles in the collection include Santa Claus Has Blue Eyes, about a man who takes a job dressing up as Father Christmas and discovers he is a hit with women, and My Little Loves following a teenage boy who leaves the comfort of his grandmother's rural home to go live with his mother and her new Spanish boyfriend in a tiny apartment in the city.
It also features early docu-drama A Dirty Story, about a man who discovers a peephole in a women's bathroom, two part-documentary work The Virgin Of Pessac about a religious ceremony in Eustache's hometown, The Pig, and Numéro Zéro, a portrait of his grandmother.
The Eustache catalogue joins a catalogue of more than 300 classic films amassed by Les Films du Losange since 1962. These include in-house productions by Rohmer, Schroeder and directors including Rivette, Roger Planchon, Jean-Claude Brisseau, Romain Goupil, Jean-Marc Moutout, Jacques Doillon and Michael Haneke, as well as works it handled for international sales and distribution by filmmakers including Lars Von Trier, Christian Petzold, Ronit and Shlomi Elkabetz, Otar Iosseliani, Nicolas Philibert, Olivier Assayas, Leos Carax, Alain Guiraudie and Mia Hansen-Love.
Films du Losange head of sales Alice Lesort says this catalogue played a crucial role in keeping the company going during the early days of the Covid-19 pandemic.
"Our catalogue is in the DNA of Les Films du Losange. We always taken the two-pronged approach of working with new productions and acquisitions at the same time as doing catalogue sales," she said.
"But it's true that in 2020, when the cinemas around the world were shut, we were able to carry on doing good deals with companies like Criterion, Times Vision in China, Russian World Vision and Bitters End in Japan which helped us stay on course."
Lesort suggests it has an even more strategic role now, especially since Gillibert took control of Les Films du Losange from long-term manager Margaret Menegoz last July, with the backing of investment partners Dantec and Jacques Veyrat.
"The catalogue was one of the things that drew Charles to the company," she said. "It's the combination of working with new films and catalogue titles that gives us a strong stability."
New titles on the Les Films du Losange slate, meanwhile, include Alain Guiraudie's Nobody's Hero, which will open the Berlinale's Panorama section, Hansen-Love's Love One Fine Morning and debut feature Rodeo by Lola Quivoron.