Trio dominates Italian film awards on Monday night.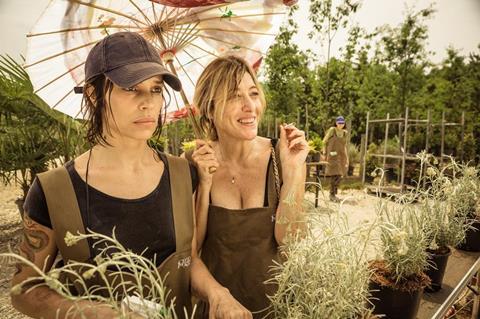 Paolo Virzi's Like Crazy (pictured) won five awards, including best picture, best director and best leading actress for Valeria Bruni Tedeschi.
Indivisible by Edoardo De Angelis won six, among them best screenplay and best supporting actress for Antonia Truppo.
Matteo Rovere's Italian Race also won six mostly technical awards, although it claimed best leading actor for Stefano Accorsi.
Like Crazy from Lotus Productions (Perfect Strangers) and Manny films (7 Minutes) premiered in last year's Cannes' Directors' Fortnight and began the night on 17 nominations.
The story of two fun-seeking, mentally disturbed women on the run from their clinic was the most successful of the three films at the box office, earning $6.5m to become one of the biggest local hits of 2016. Its five di Donatello wins included best production design and best hairstyling.
Indivisible also also earned 17 nominations and is the pulp story of two conjoined sisters exploited by their family and the local parish in a dangerous suburb of Naples.
The film, produced by Tramp Ltd, was also recognised for best costume, best soundtrack and best original song – both by Neapolitan music legend Enzo Avitabile – as well as best producer.
Italian Race began the night on 16 nods and takes place in the world of motor racing. Fandango (My Mother) and Rai Cinema (Fuocoammare) produced the story of a young girl struggling to win the Gran Turismo Championship who gets unexpected help from her junkie brother and former champion.
The film won di Donatellos for make-up, sound design, editing, special effects and cinematography.
Valeria Mastandrea won the supporting actress prize for her role in Claudio Giovannesi's Fiore, which also premiered in Directors' Fortnight.
The Confessions starring Toni Servillo, and Marco Bellocchio's Sweet Dreams – another Directors' Fortnight premiere – left the ceremony empty-handed despite five and 10 nods, respectively.
The prize for best foreign picture went to Tom Ford's Nocturnal Animals, while Ken Loach's I, Daniel Blake prevailed in the best European film category.
Roberto Benigni received an honourary di Donatello at Monday night's ceremony.